2022 Holiday Gift Guide
Reading Time:
3
minutes
'Tis the season of giving, and there's no better feeling than seeing the joy that the perfect present can bring. It's time to kick shopping into high gear, so look no further for gift ideas that will brighten the face of everyone on your list.
1. for the jetsetter…
Whether they're off to Borneo or the Bahamas, they'll never have to be without a flawless complexion, thanks to the Soniqué Mini, the ultimate at-home 3-in-1 light therapy device.
Soniqué Mini LED Sonic Cleanser ($99)
2. for the marathon runner…
A runner's body takes a beating on the pavement every day. One day it's sore knees, and the next day it's shin splints. Help them relieve both with the handheld, portable dpl® Nüve Pain Relief that penetrates deep into the skin to relieve chronic pain as well as post-exercise aches.
3. for the one who looks forward to their yearly cleaning…
Give the gift of a luminous smile this holiday season. Some people love the feeling of a good dental cleaning, and we have the perfect idea for them. The dpl® Oral Care improves gum health, eliminates bacteria, and even increases the effectiveness of whitening products, which is great for coffee addicts, as well.
4. for the one who can always tell when it's going to rain…
Whether the pain is from that old football injury or run-of-the-mill arthritis, we all know that one person who dreads the second the barometric pressure drops. Provide them with much-needed relief with the dpl® Joint Wrap. Perfect for shoulders, elbows, knees, and ankle joints, this professional-grade device accelerates healing and reduces inflammation with powerful LED light therapy.
5. for the girl who has (almost) everything…
She might seem like she has it all, but she most likely has yet to experience the wrinkle-reducing, acne-destroying, fine line-eliminating powerhouse that is the Lux Collection dpl IIa. It's as easy to  use as opening a book and effective in reducing acne and wrinkles, smoothing fine lines, and improving skin tone with only three minutes of daily use.
reVive Light Therapy® Lux Collection dpl IIa ($399)
6. for the new parent…
From sleep deprivation to backaches, the growing pains of new parenthood are many. Gift a friend or family member who recently welcomed a new baby the dpl® Neck Pillow, which uses infrared and red light to provide quick relief of neck pain, stiffness, and muscle spasms.
7. for the one who brought you into the world…
Mom deserves something special this year, and the Soniqué Cleanser, the ultimate 3-in-1 skin-rejuvenating device, is a great way to allow her to look and feel her best in 2023. A bonus? It also comes with two treatment heads: one for gentle cleansing and one for serum massage.
reVive Light Therapy® Soniqué Cleanser $149
8. for the teen…
Chances are there's a teenager on your list who's battling stubborn acne. Be their saving grace and gift them a Lux Collection Spot Acne Treatment, our portable zit-zapping wand.
Lux Collection Spot Acne Treatment ($39)
9. For the deadlifter…
For the one who's always heading to the gym, the dpl® Flex Pad relaxes and relieves muscle spasms and joint aches, all while increasing local blood circulation.
10. for the migraine sufferer…
Give some much-needed headache relief to your long-suffering friend or family member with the dpl® Eye Mask. The dpl® Eye Mask temporarily relaxes tense muscles, relieves pain associated with migraines, headaches, sinus pressure, and increases blood circulation.
11. for the selfie-obsessed…
 Give the gift of a perfect pout with our reVive Light Therapy® Lux Collection Lip Plumper, which uses FDA-cleared light therapy technology to revitalize cells, smooth fine lines, add volume, and increase circulation.
reVive Light Therapy® Lux Collection Lip Care ($99)
12. for the stockings…
Let them glow on the go with a gift of the slim and subtle reVive Light Therapy® Glō, a portable LED light therapy device ideal for slipping into a friend or family member's stocking. Choose from anti-aging, acne, or Lux, which offers both settings in one.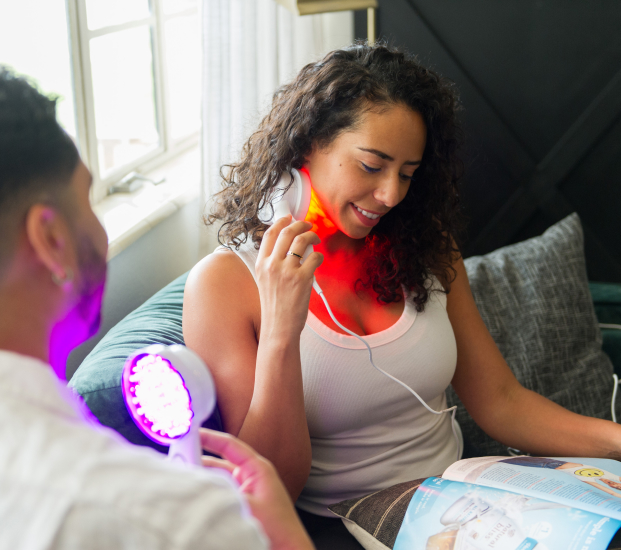 Experience the power of light therapy at home
Specific wavelengths of light have different effects, and can be used for a variety of applications — from destroying acne-causing bacteria to killing harmful germs on your phone. Our light therapy devices allow you to harness the power of LEDs in the comfort of your own home.
See How It Works