4 Home Beauty and Wellness Treatments to Try Before Your Wedding Day
Reading Time:
5
minutes
If you're in the midst of planning out your wedding day, then you know all too well how time-consuming and expensive the process can be. Often, the stress of wedding planning can cause hormone fluctuations, like increased cortisol that can result in unexpected acne, dull skin texture, tired eyes, and even migraines. The last thing any bride wants when preparing for her big day is one more thing to worry about. 
Thankfully, home beauty tools have come a long way and can be a more convenient and cost-effective route than seeking professional beauty treatments, all while achieving the same results. Learn how light therapy can help you prepare for you for your wedding day.
The Best Light Therapy Devices for Brides 
While home beauty products are considerably less expensive than an appointment with a professional, you still want to know how well they work before making the investment. That's why we've compiled a list of at-home red, blue, and infrared light therapy devices that are must-haves before your wedding day. Whether you're struggling with physical symptoms of stress, like acne, or simply want that extra glow before your big day, here are our top four picks.
1. Pearly Whites With dpl® Oral Care
Take your whitening toothpaste and gel strips the extra mile with the right light therapy tools. With less bacteria in your mouth, whitening gels and pastes become much more effective. This is exactly what the dpl® Oral Light Therapy system does. The system's non-UV blue lights combat bacteria, amplifying the whitening effects you would see from your over-the-counter whitening products — which can be a huge help when it comes to coffee or wine stains on your teeth. 
In addition to its whitening effects, this system also utilizes infrared and red light to increase circulation in the gums, improving your overall gum health and relieving any pain or soreness. It's not just a beautifying tool — it's also an oral health tool that helps prevent gingivitis, receding gums, cold sores, and more.
2. Naturally Fuller Lips With reVive Light Therapy® Lip Care
If you're a fan of lip-plumping glosses, the reVive Light Therapy® Lip Care system may be your next go-to that levels up your beauty routine. This pain-free system uses targeted red light therapy that stimulates natural collagen and elastin growth to tackle fine lines around the lips. Since high levels of cortisol can actually contribute to a decline in collagen and elastin production, red light therapy can help counteract those effects and restore your skin. Many users see an immediate difference after one use, and after weeks of consistent use also see anti-aging results
Since red light therapy also increases circulation, this lip care system also enhances your lips' plumpness, shape and color temporarily. (Effectiveness and sensitivity will vary from person to person, and the effects may last anywhere from an hour to a day or more per treatment.)
3. Say Good-Bye to Pesky Pimples with Blue Light Therapy Panels and Wands
Acne — it's one of the most prevalent skincare nuisances, and always seems to pop up at the worst possible moments. If you want to ensure clear skin for your wedding day, consider adding acne-fighting blue light therapy into your skincare routine as a strong preventative measure. Blue light therapy helps treat acne by destroying the bacteria in and around the oil-generating sebaceous glands, and can help prevent acne by making the sebaceous glands produce less overall oil. Since stress-induced acne is usually caused by overproduction of oil in these glands, blue light therapy can help target the root cause.
Small portable devices, like the Glō Light Therapy Acne Treatment Device, are great to keep tucked away in your purse for quick treatment whenever unexpected pimples pop up. Then, there are devices like the dpl® lla panel that provide the best of both worlds with acne and anti-aging treatment settings in one convenient panel. With just three minutes of use daily, you can achieve the same spa-worthy results you'd expect to see in the chair of a professional. 
Stefanie Pilcher, Marketing Manager at reVive Light Therapy®, put the dpl® lla panel to the test in preparation for her own wedding, and said:
When I heard all the benefits of the anti-aging and acne treatment devices, I couldn't wait to get my hands on the dpl IIa for my wedding coming up in March. With a treatment time of only 3 minutes, it was easy to incorporate it into my morning and evening skincare routines. After I shower or wash my face, I lay in bed and treat my face first and then my décolleté, which is red and sun damaged from wearing tank tops outside too often. It's a great time to meditate and just relax while the lights do their thing. I saw results after my first treatment and continue to see improvements, especially in preventing acne flare-ups caused by wearing a mask.
4. Keep Calm Before the Big Day with Infrared Light Masks or Pillows
Stress can spiral out into a lot of unwanted things — acne, weight gain, loss of energy, and colossal headaches. Although there are many things to check off your to-do list before your wedding, remember that this is supposed to be one of the most memorable and enjoyable moments of your life. When it comes to planning a momentous event, it can be easy to run on overdrive 24/7, but your mind and body will thank you if you make the time to de-stress before your wedding day. The dpl® eye mask uses infrared light therapy, which helps ease the pain from migraines, tension headaches and sinus pressure by delivering a combination of red and infrared lights that penetrate deep beneath the skin. If you're feeling a lot of tension built up around your neck and shoulders, the dpl® neck pillow can help provide relief for sore, stiff muscles with targeted infrared LEDs.
How Light Therapy Quickly Treats Stressed-Out Skin Before Your Wedding
When you're stressed out, your body's cortisol levels spike. While this isn't necessarily a bad thing for scenarios where quick decision making is necessary, high levels of cortisol for prolonged periods of time can have a distressing impact on your skin's health. Below are some of the ways stress manifests as physical warning signs on your skin and how light therapy tackles the root cause of these skin concerns.
Acne Flare Ups
The increased production of cortisol can also lead to increased production of oil in the sebaceous glands, creating acne. Blue light therapy is a treatment for acne that destroys acne-causing bacteria and can help prevent future flare-ups. Regular use of the lights can also stabilize the oil production in the sebaceous glands resulting in the production of less oil overall. 
Inflammation
High cortisol production is known to unsettle the body's microbiome, which includes the skin. If you're naturally prone to breaking out with eczema or itchy, scratchy patches of skin, then stress can be a trigger that sends those symptoms soaring. Dermatological conditions like eczema and atopic dermatitis can be treated by blue LEDs.
Dry or Dull Complexion
When cortisol levels are high your body's ability to retain water decreases. Dehydrated skin can appear dry and dull. In addition, prolonged periods of stress can actually speed up the body's natural aging process, contributing to a breakdown of collagen and elastin in the skin. Red light therapy has been shown to produce denser collagen for an improved complexion.
Tired, Baggy Eyes
Quality of sleep is just as important as the quantity of your sleep. For example, if you sleep seven hours but find yourself waking up throughout the night, your body is not falling into deeper rapid eye movement (REM) stages that are necessary for nourishing your body. Elevated cortisol levels can interrupt sleep, contributing to an overall decline in your quality of sleep and causing dark circles or puffy eyes. The application of red LEDs can help rejuvenate stressed-out skin around the eyes through promotion of cellular repair and growth, and it can also enhance the effects of other home remedies like eye creams.
Get More Beauty and Wellness Tips
At reVive Light Therapy® , we are committed to sharing health and beauty tips to enrich your life. You can browse our blog for more information about light therapy for skincare and pain relief. While we recommend these as the top four products for brides to try before their wedding day, make sure to explore our full selection of products that offer treatment for acne, wrinkle reduction, workout recovery and more. And as always, for the safest and most effective results, it's recommended to consult your dermatologist or physician before adding any new product to your beauty regimen.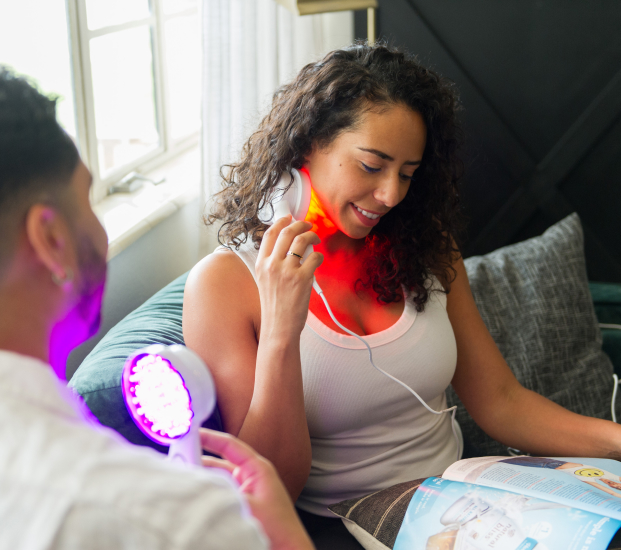 Experience the power of light therapy at home
Specific wavelengths of light have different effects, and can be used for a variety of applications — from destroying acne-causing bacteria to killing harmful germs on your phone. Our light therapy devices allow you to harness the power of LEDs in the comfort of your own home.
See How It Works