3 Benefits of Portable Light Therapy Devices
Reading Time:
4
minutes
With many new and exciting LED skincare tools on the market, it can be hard choosing which are worth the investment. Red light therapy is a non-invasive, therapeutic treatment that has been shown to increase blood circulation and stimulate new cell growth, making it an effective anti-aging solution, as well as a treatment for a range of other skin conditions. Blue light therapy is another form of light therapy that's typically used to treat acne, and can be utilized independently or alongside red light therapy treatments. 
Whether you're looking for light therapy designed to treat acne or wrinkles, or to simply help with overall skin enhancement, you will find yourself navigating through many types of devices available on the market today. Among these different types of devices are portable light therapy tools, which is a favored application of light therapy for many reasons. Below, we explore the top three benefits that the versatility of portable light therapy devices offer.
#1 You Can Treat Multiple Areas of the Body
Unlike other light therapy devices that may be designed to treat one specific body part, like the face or hands, most portable light therapy devices are versatile and can be used for multiple areas of the body.
Take the open panel design, for example. While its most common use is for treating facial wrinkles, you can also target the neck, chest and hands with ease. Other handheld devices and wands also have a versatile design that can be used to treat multiple areas.
This is a big benefit because you don't always know what areas you'd like to treat until the skin issue arises. A portable, handheld device adapts to your skincare routine needs, rather than you having to find ways to make your device work for you. With a portable LED skincare device, you can feel assured that you need just one tool to get the job done. (Your wallet and vanity countertop space will thank you for that.)
#2 You Can Easily Spot-Treat Trouble Areas
Portable light therapy devices are incredibly versatile, so if you want to focus in on a certain problem area that is completely doable. Whether it's a handheld device intended to treat larger areas at time or a device designed specifically for clearing up small trouble spots, portable devices make it easy to hone in on the areas you want to treat.
For example, if you don't typically experience acne issues but want to quickly get rid of one or two that may pop up every month or so, portable battery-operated spot treatment devices like the Poof Acne Treatment, reVive Light Therapy® Spot or Glō by reVive Light Therapy® Portable Acne Light Therapy Device, are great choices for easy and effective spot treatment.
Similarly, you may notice concentrated wrinkles in certain areas, like crows feet around the eyes or fine line smile wrinkles. In cases like that, where you may want to center efforts in a particular localized spot, a portable solution like the Glō by reVive Light Therapy® Portable Anti-Aging Light Therapy Device or Essentials – Wrinkle Reduction & Anti-Aging may be the perfect match.
#3 Treatments Can Be Used While You're On The Go
Just like any skincare solution, light therapy works best when used consistently. Many people find travel to be a disrupter of their skincare regimen. It's not easy finding ways to pack a variety of travel-size cleansers, serums, creams and more in a carry-on bag. It's also not any more convenient toting around full-size bottles in luggage and having the extra responsibility of remembering to re-pack everything when it's time to go home. 
This is where portable light therapy devices make keeping up with your skincare routine easier when traveling. Portable light therapy devices come in all kinds of sizes — from spot treatment wands that can easily be tucked away in your handbag or backpack to slim book-style panels that are easy to pack in a travel duffel bag or suitcase. Since portable light therapy devices are easy to take with you anywhere, you can continue looking forward to your skincare routine everyday regardless of whether you're at home or going from one travel destination to the next.
How to Choose the Right Handheld Light Therapy Device for You
Choosing the right handheld light therapy device all depends on your unique goals and needs. If you're new to light therapy and want to test the waters, or have minor trouble areas you want to focus on tackling first, then a small spot treatment wand, or handheld device, like the Clinical Acne Treatment or Clinical Wrinkle Reduction, are a good potential fit for you. These are also good options if you know that you want to take your skincare treatment on the go with you frequently and have very limited luggage space for travels.
If you know that you want to treat multiple areas, then a handheld device with a larger surface area, like the dpl® IIa panel or the Clinical handheld devices, will make treatments more efficient by treating larger areas at a time. The dpl® IIa is a unique light therapy device that can use both anti-aging and acne settings at the same time, making it the ultimate time and space-saver. Even though these devices aren't as small as spot treatment wands, they're still easy to pack, especially if you have roomy luggage or extra checked baggage.
If you're wondering which light therapy tool is the best solution for you, you can read our light therapy devices shopping guide for more direction before browsing our full selection of products.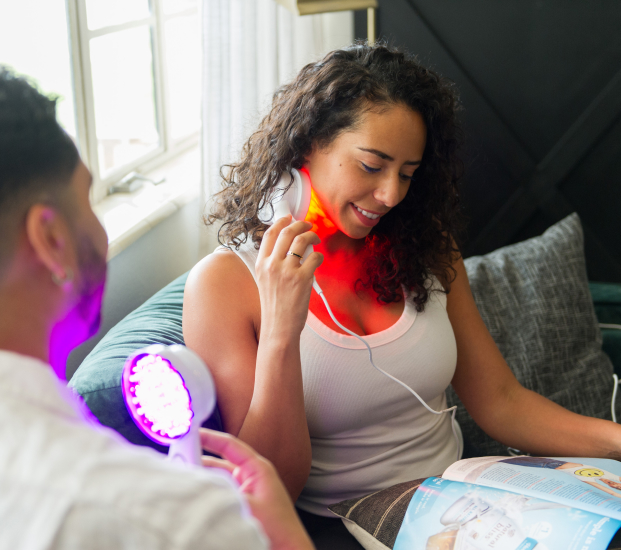 Experience the power of light therapy at home
Specific wavelengths of light have different effects, and can be used for a variety of applications — from destroying acne-causing bacteria to killing harmful germs on your phone. Our light therapy devices allow you to harness the power of LEDs in the comfort of your own home.
See How It Works