Which Light Therapy Devices are Best for Anti-Aging Skin Care?
Reading Time:
3
minutes
Everyone seems to be looking for the anti-aging skin care regimen that fits their budget and lifestyle — and that actually delivers results. With hundreds of skin care companies promoting chemicals, tools, and procedures for youthful skin, it can be difficult to know whom to trust.
Anti-aging products comprise a $56 billion market in the U.S. alone. Treatment options range from relatively inexpensive over-the-counter retinol creams all the way to surgical facelifts. A less invasive option is light therapy.
Light therapy for wrinkles, despite its wide use, is still a relatively new technology. reVive Light Therapy® encourages our customers to document their progress using light therapy devices with photos and to share those results with others. That way, you can see for yourself what a difference an LED anti-aging treatment can make.
Here, we will share results from real light therapy users and help guide you through your decision on the best type of red light therapy device for your anti-aging routine.
What Causes Wrinkles and Aging Skin?
As we age, our skin naturally loses its elasticity and collagen and produces less oil. Called intrinsic aging, a certain degree of wrinkling is beyond our control and is, in part, a product of genetics, explains Suzan Obagi, assistant professor in dermatology. Aging skin symptoms can be exacerbated, however, by "extrinsic aging" caused by sun exposure and smoking. According to the Mayo Clinic, repetitive facial expressions can also make wrinkles worse.
How Anti-Aging Light Therapy Works
Anti-aging light therapy uses a combination of different LEDs to rejuvenate the skin. Light from the LEDs penetrates the skin, creating heat and friction beneath the surface to encourage cellular reproduction. The results can reduce fine lines and wrinkles, and give skin a more glowing appearance. 
Our wrinkle reduction devices use light in three different colors (or wavelengths). Read our explanations of how light therapy works for more details.
Red Light – Stimulates Cellular Repair
With its ability to reach into the subdermal layers of the skin, red light therapy stimulates cellular repair and increases circulation to promote a more vibrant and youthful complexion. A 2014 German controlled trial looked at patients treated with light therapy in the red wavelength range. The researchers concluded, "The treated subjects experienced significantly improved skin complexion and skin feeling." They used ultrasound to measure the study participants' collagen levels and found improvement there, too.
Infrared Light – Natural Collagen Production
At infrared wavelengths, light is invisible to the naked human eye. These longer wavelengths penetrate more deeply than red light. Infrared light combats the signs of aging, replenishes dermal and epidermal cells, stimulates the natural production of collagen and elastin, and speeds up natural healing processes. Infrared light also has benefits for relieving stiffness and aches.
Amber Light – Finishing Agent at the Surface
Amber light works closer to the epidermis, or surface layer of the skin. It reduces the appearance of redness, swelling, and inflammation to help bring vitality and brightness to the skin. Amber light therapy is also beneficial for treating rosacea and sunburns.
Anti-Wrinkle Devices Combining Red, Infrared and Amber Light
For a comprehensive treatment using light from the whole range of wavelengths, choose a home light therapy device with red, infrared, and amber colors. Below are the products we recommend.
Another notable anti-wrinkle product is Glō by reVive Light Therapy®. Small, portable, and stylish, this is among our most popular red light therapy devices.
Anti-Aging Results from Real Light Therapy Users
The results from light therapy can sound promising, especially when you've tried a lot of anti-wrinkle products already. These statistics from real users of reVive Light Therapy® may help to reassure you.
Something to keep in mind is the results from light therapy will vary depending on your age, skin type, and other genetic factors. We encourage users to talk with a dermatologist or skin care expert about their anti-aging regimen.
For the best results with our products, follow the instructions for using your device—you can read our FAQs or consult your device's user's manual for more information—and monitor your progress with photos. Please contact our customer service team for assistance.
More Anti-Aging Health and Beauty Tips
At reVive Light Therapy®, we are committed to sharing health and beauty tips to enrich your life. You can check out articles on our blog for more information about light therapy. Make sure to also explore our full selection of products, not only for wrinkle reduction but for acne, workout recovery, oral health care, and more. 
Friends don't let friends wrinkle. Share this article with your social network and marvel in the youthful results together.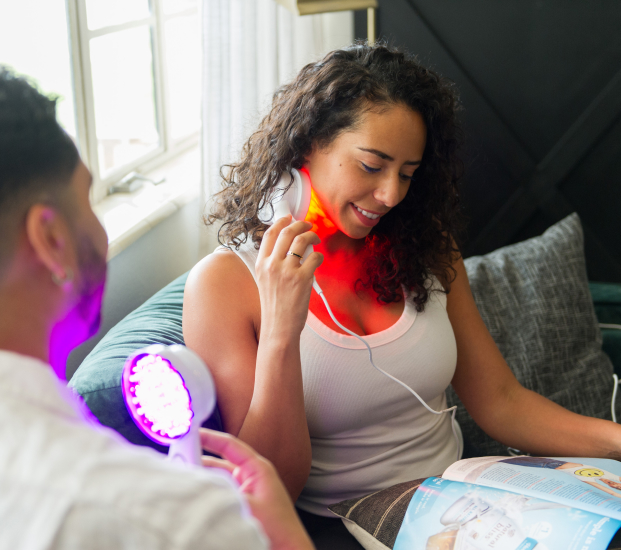 Experience the power of light therapy at home
Specific wavelengths of light have different effects, and can be used for a variety of applications — from destroying acne-causing bacteria to killing harmful germs on your phone. Our light therapy devices allow you to harness the power of LEDs in the comfort of your own home.
See How It Works