How LED Light Therapy Provides Wrinkle Reduction
Reading Time:
4
minutes
We're all growing older. Which means we're all going to have to deal with unwanted wrinkles sooner or later.
If you're the type to push back, rather than just let time have its way, there are an array of products that make big promises about what they can do to help.
Among the easiest and most natural solutions available is light therapy, which is basically just shining the right kinds and colors of light on your problem areas for the right amount of time and with the right frequency to diminish wrinkles and other signs of aging.
And while LED light therapy treatment may seem too good to be true, it has been scientifically proven to have anti-aging effects.
If you are looking to implement LED light therapy as part of your skincare routine, it's important to know the ins and outs of LED light therapy for wrinkles. 
Does LED light reduce wrinkles?
Research shows that red and infrared light therapy can significantly improve skin complexion, reduce fine lines and wrinkles, and increase collagen density. But like anything else, you have to educate yourself and make the right choice about which brands and products you try and trust. reVive Light Therapy®  devices are FDA-cleared and have been clinically proven to work. We performed a clinical study with our anti-aging devices and found that 97% of users experienced a reduction of wrinkles. 
In addition to wrinkle reduce, many participants noticed:
Minimized skin discoloration and age spots
Enhanced complexion
Reduced puffy eyes
Improved skin tone and texture
More youthful-looking skin due to increased collagen and elastin
It may seem like magic, but the research — plus the before and after photos — prove otherwise.
Light therapy for wrinkles before and after
We love getting before and after photos from our happy customers! Taking a photo before you start light therapy is the best way to see your results, as they can appear subtle at first. When you start using your light therapy device more consistently, you'll be able to look back on your original photo as a reference.
Regular use is key for results, according to long-time customer Beverly, "I bought the original light therapy panel 5 years ago and use it religiously. I have received many compliments about my skin. I love it and am pleased to get the new improved version."
When you start seeing results, it's important to consistently use your light therapy device for upkeep and maintenance, just like any part of your skincare routine.
"Using the system has changed my life," another customer, JP, said. "It has plumped up my face and evened out the color. I've noticed the fine lines and wrinkles are removed and it has helped lift my face. I still use it once a day."
Which light therapy is best for wrinkles?
Different light colors have different effects on the skin, several of which can help reduce wrinkles.
Amber light penetrates the skin at shallow levels to promote surface healing and reduce swelling, inflammation and redness.
Red light penetrates 8-10mm into the skin, energizing cells and enabling  them to reproduce faster, leading to healthier skin cells. Red light therapy is shown to include cell regeneration plus collagen and elastin stimulation.
Infrared light penetrates deepest into the skin at 30-40mm, supporting cellular regeneration and reducing inflammation, which can help eliminate wrinkles and repair or replace damaged tissues.
These different lights can help produce anti-aging effects. Red light and infrared light are more commonly associated with powerful anti-aging effects, but adding amber light can lead to skin that's healthier and more radiant overall.
How do LED anti-aging devices work?
At reVive Light Therapy®, we're constantly improving our LED light therapy products so that you get maximum results in your anti-aging light therapy devices. Our skincare devices have been engineered to medical grade specifications, and are safe for all skin tones. 
For more information on how LED light therapy works, explore our in-depth guide.
How to maximize light therapy for wrinkles
Like any skincare treatment, you should use your LED light therapy device consistently for better results. Get the most out of your device by adding it to your skincare routine and making sure you use it after washing your face — makeup, sunscreen and other topicals can contain light-blocking ingredients that render LED light therapy ineffective.
You can also combine light therapy with skincare products, such as serums and extracts, to speed up the process, including:  
Vitamin C serum or moisturizer: Vitamin C is known to stimulate collagen, provide skin-brightening antioxidants, and hydrate the skin, all of which boosts your skin's radiance and evens out your skin tone. You can use Vitamin C serum with light therapy after you've completed your light therapy session, followed by a moisturizer. It's important to leave time between each step so that the serum can be fully absorbed by your skin.
Retinol: A powerful and popular anti-aging ingredient, retinol can be combined with light therapy by applying creams and other beauty products that contain retinol 5-10 minutes after using your light therapy device.
Other anti-aging creams or serums: Products that contain peptides, argan oil, or hyaluronic acid can be a useful addition to your skincare regimen.
Finally, by following other anti-aging tips — such as avoiding common habits that age your skin — you can create a holistic approach to skincare that incorporates LED light therapy as well as other best practices.
What's the best LED light therapy device for wrinkle reduction?
We offer an entire collection of anti-aging devices. Which one is best for you? It depends on your skincare goals and intended uses.
For widespread coverage, we have the dpl® IIa, which can treat wrinkles on your entire face, neck, chest, back, and décolleté. If you want to treat smaller areas, the Glō is a portable device that's perfect for on-the-go use. 
If you're looking to combine anti-aging with a skincare cleanser, the Soniqué mini combines infrared, red, and amber LED light therapy with sonic cleansing technology to make your skin clearer and cleaner as well as more radiant and youthful in appearance. 
As you can see, what light therapy device is best for reducing wrinkles or any other skincare goals you have depends on what's easiest to fold into your routine and what are you looking to get out of it. 
Shop The reVive Light Therapy® Anti-Aging Collection
Our LED light therapy anti-aging collection features a range of devices that are scientifically engineered to reduce the appearance of wrinkles, crow's feet, and dark spots for more youthful skin. It's easy to #getglowing by using your device for three minutes, up to three times a day! 
Explore all reVive Light Therapy® anti-aging products today.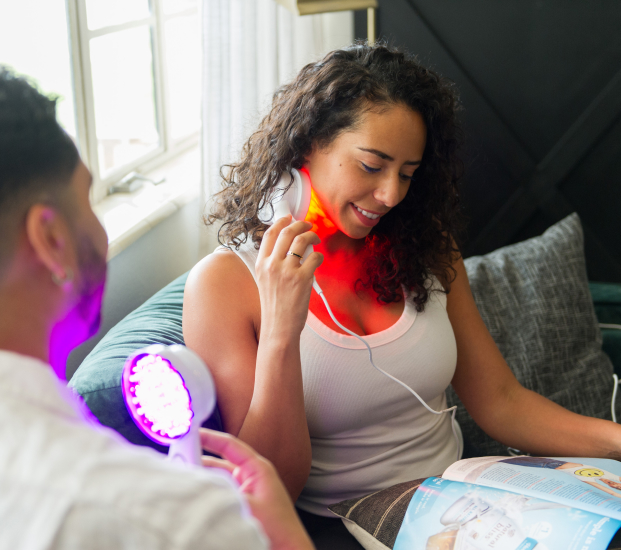 Experience the power of light therapy at home
Specific wavelengths of light have different effects, and can be used for a variety of applications — from destroying acne-causing bacteria to killing harmful germs on your phone. Our light therapy devices allow you to harness the power of LEDs in the comfort of your own home.
See How It Works