Light Therapy Device Combos for Common Issues
Reading Time:
3
minutes
There is an array of reVive Light Therapy® and dpl® Light Therapy devices for needs ranging from anti-aging to acne to pain relief. These are devices you may use every day or only once in a blue moon, depending on your concern and how prevalent it is.
Some of our devices give you the versatility to use them either at home or on-the-go. Some work while you rest and relax, others move around with you, and still others incorporate seamlessly into your existing daily routines. And while some are designed to be used only on one targeted body part, others work on virtually any area of your body.
Your needs are as unique as you are, and while we try to design our devices to accommodate those needs as completely as possible, sometimes it takes a combination of complementary devices to get the specific results you're looking for.
To those who are looking to round out their at-home light therapy capabilities just so – and especially for those who have to deal with certain recurring issues or concerns – we offer this quick guide to need-based light therapy device combos.
Anti-Aging
We're all getting older. But you don't have to look like it. Our full range of age-defying devices let you build your own light therapy regimen to help achieve and preserve more youthful-looking skin. We empower you to pick the right device combo to maximize wrinkle and fine line reduction while stimulating essential collagen and elastin in the skin.
Acne
Whether you only get an occasional pimple or suffer from everyday or even severe acne, a multi-pronged arsenal is your best bet for relief. From pocket-size to handheld to full-face treatment, you can create a light therapy combo that adds an essential and effective element to your existing routine.
Workout Recovery
When you put in the work to build a better you, you feel it later on. Sore and achy muscles, maybe a tweak of that nagging old injury … Whatever the source of your pain, we've got a one-two punch to help knock it out, wherever it may hurt. And, as an added bonus, you can maximize your workouts by using red light therapy before your workout, too.
Arthritis Pain
As many as 23% of all American adults – more than 54 million people – have arthritis. More than half of those are limited in their activities because of arthritis, and 1 in 4 report severe joint pain because of arthritis.
If you fall into any of those categories, we have devices tailored to the most common areas afflicted with arthritic pain.
Headaches
Whether your headache stems from everyday stress, a migraine, sinus pressure, or temporal muscle tension, you can get effective, drug-free pain relief with this comfy combo.
Stress
Sometimes it seems like stress is life. We all carry it around in one form or another. But wherever you carry yours, you can find head-to-toe relief from the pain of tight, wound-up muscles with your own custom combination of our best stress-busting devices.
Whatever your anti-aging, acne-fighting, or pain-relief needs, reVive Light Therapy® and dpl® Light Therapy have a device — or a combination of devices — that can address your needs. Use this guide as a starting place, or mix-and-match your own light therapy device combos, to build the perfect arsenal of light therapy solutions for whatever issues bother you.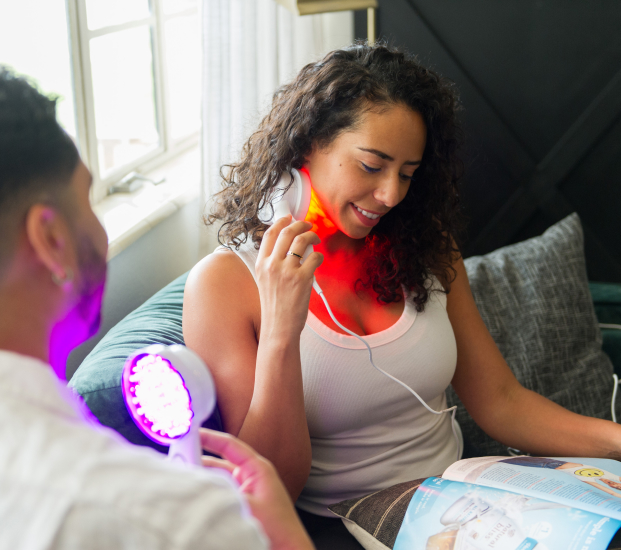 Experience the power of light therapy at home
Specific wavelengths of light have different effects, and can be used for a variety of applications — from destroying acne-causing bacteria to killing harmful germs on your phone. Our light therapy devices allow you to harness the power of LEDs in the comfort of your own home.
See How It Works