Finding the Best LED Light Therapy Products for Home Use
Reading Time:
3
minutes
At-home LED light therapy devices have two main applications: for skincare, and for pain relief. The benefits depend on the color or light spectrum. Red, near-infrared and infrared wavelengths can stimulate cell regeneration and cell metabolism to help reduce wrinkles or other signs of aging. Blue light offers antibacterial action that helps treat acne, pimples, and blackheads. Infrared light therapy (ILT) penetrates deepest and offers pain relief benefits throughout the body.
Although light therapy treatment is available from dermatologists, physical therapists, and other physicians, there is also a wide range of devices using LED lights, from Blue LED Lights to help with skincare to Infrared LED Lights for pain relief, that are available for home use. Here, we take a look at the different styles of light therapy devices and how to get the most benefit when using them at home.
What is Light Therapy for Home Use?
Light therapy has long been used in spas and dermatology clinics to treat anti-aging, acne, and other skin conditions. While effective, these treatments are costly and require multiple sessions. The cost of a single light therapy session at a doctor's office can range from $75 to $124, and treatment usually involves several sessions. Fortunately, this medical-grade light therapy technology has been adapted to portable, affordable devices that can be purchased and used in the comfort of your own home.
Types of At-Home Light Therapy Devices
Light therapy devices come in many different shapes and sizes: from small, handheld devices to large books that cover multiple treatment areas. The many options allow you to use LED light therapy at home while still engaging in other activities. 
Handheld Devices
Handheld light therapy devices are the most convenient and flexible, and handy when you want to treat small areas, like fine lines around the eyes or mouth. A good example is Soniqué, which uses red LEDs to treat signs of aging. Use it and similar handheld devices while you watch TV, read, or lounge around the house, or carry it around in your purse to squeeze in treatments before work or on a lunch break. 
Ultra-Portable Devices
Even smaller than a handheld device, an ultra-portable device is only slightly larger than a pencil, so it fits easily into your purse or laptop bag. Popular models include the red LED Glō and blue LED Spot. Since the treatment time is just three minutes, you can treat wrinkles or random blackheads in the midst of running errands. Talk about multi-tasking!
Book-Style LED Devices
As the largest at-home light therapy device, a book-style device can be used on your entire face, neck, chest, hands, legs, back, and décolleté. For many areas, it works best while you lie down, so try using it while you listen to a podcast or during the last few minutes before you go to sleep at night. Our dpl® IIa offers both anti-aging and acne treatments, as well as a combo setting to do both at once, in only 3 minutes per session.
Wrap-Style Devices for Pain
The wrap is a large, flexible pad used to ease pain from sports injuries, arthritis, neuropathy, sprains, and more. Medical-grade LED lights safely stimulate blood circulation, relax muscles, accelerate healing, and relieve pain. If you don't want to let pain hinder your training session, toss the wrap in your gym bag, and use it while you are working out. When it's time to rest and recover, you can wrap it around your problem area and let the light therapy naturally ease your pain. Examples of LED wraps include the dpl® Flex Pad.
LED Light Therapy Slippers
Give your feet a break and put on a pair of light therapy slippers as you kick back for your Netflix binge or movie marathon. Medical-grade LED lights reach deep into joints and soft tissue to relieve pain and stiffness in your feet. 
How to Use Light Therapy at Home?
When used correctly, these at-home LED light therapy devices can help improve the look of your skin and alleviate pain in the body. To maximize your results, it's important to use the devices as directed. Each device has different instructions for use: the beauty devices work best with short, three minute sessions, while the larger wrap for pain can be used in 20-minute sessions multiple times per day. If properly used and maintained, the devices can last for many years and give you consistent results while saving you hundreds of dollars from expensive, professional treatments.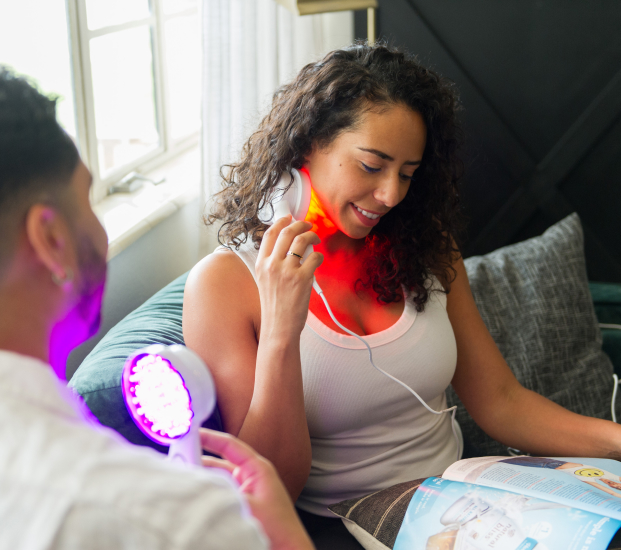 Experience the power of light therapy at home
Specific wavelengths of light have different effects, and can be used for a variety of applications — from destroying acne-causing bacteria to killing harmful germs on your phone. Our light therapy devices allow you to harness the power of LEDs in the comfort of your own home.
See How It Works