World Arthritis Day – How LED Light Therapy Can Provide Pain Relief
Reading Time:
2
minutes
We tip our hats and nod our heads to those living with the pain of Arthritis. October 12th is internationally recognized as World Arthritis Day. While we wish we had a cure, we'd like to help bring awareness to the topic and offer a noninvasive treatment option to ease symptoms.
What is Arthritis?
According to the Arthritis Foundation, Arthritis is a blanket term which refers to over 100 joint pain or joint diseases. However, there are two common types of arthritis:
Osteoarthritis
Rheumatoid arthritis
Osteoarthritis (OA) is described as a degenerative joint disease which can develop over time due to over use from physical activity or from being overweight. Because of these impacts, cartilage begins to thin out, causing the ends of bones to rub together.
Rheumatoid arthritis (RA) is classified as an autoimmune inflammatory disease involving joints in the hands, shoulders, knees, and feet.  Autoimmune disease releases enzymes which attack healthy tissues; with RA, the healthy tissues attacked are the linings of joints. When the lining of the joints begin to deteriorate, a person living with RA may experience stiffness, pain, and reduced movement in function.
What causes arthritis?
As stated by Arthritis Research UK, science can't pinpoint exactly what causes arthritis. There are many forms of arthritis and it can be either caused by genetic makeup or lifestyle choices. Or it could be a combination of genetics and lifestyle habits.
Is there a cure for arthritis?
Sadly, there is no direct cure for arthritis but there are many methods of treatment to ease symptoms. If you are experiencing symptoms of arthritis, speak with your doctor and develop a plan of action to manage pain.
What can LED light therapy do for arthritis?
LED light therapy is a noninvasive approach to treating arthritis. Our devices provide temporary relief from pain caused by arthritis. The power of red, infrared, and amber lights stimulate blood circulation, relaxes muscles, and encourages healing. We have developed a Pain line to help with the effects of arthritis and other muscle and joint related issues. Our medical-grade infrared light is safe and natural. Treatment times can be completed in 20 minutes.
Our dpl® Flexpad offers a larger treatment area and can be wrapped securely to make light therapy sessions effective. Our dpl® Flex Mitt was specifically designed for those suffering with arthritis in their hands and wrists.
Don't let arthritis rule over your life. Challenge the disease with treatments with our light therapy devices. We want to know how light therapy has changed your arthritis symptoms. Leave us a comment or tweet at us @revivelighttherapy
Health & Beauty Tips
At reVive Light Therapy, we are committed to sharing health and beauty tips to enrich your life. Everyone deserves to live an empowered life and we want to help you get there. If you suffer from acne, wrinkles, or pain, our light therapy products can help.
Sources
What Is Arthritis?. Retrieved September 26, 2017.
What causes arthritis?. Retrieved September 26, 2017.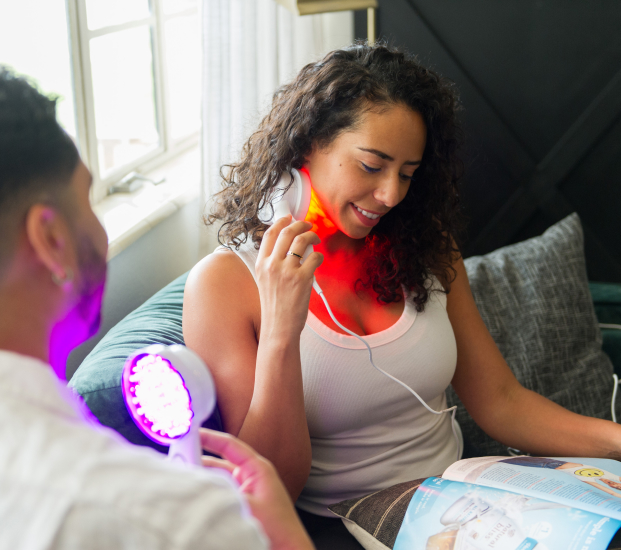 Experience the power of light therapy at home
Specific wavelengths of light have different effects, and can be used for a variety of applications — from destroying acne-causing bacteria to killing harmful germs on your phone. Our light therapy devices allow you to harness the power of LEDs in the comfort of your own home.
See How It Works