5 Ways to Make Your Skin Care Routine Exciting Again
Reading Time:
2
minutes
If you're like most people, you wash your face twice daily to practice good skin care hygiene. But if you've been sticking to a skin care routine since middle school, we're guessing you're "going through the motions" of good hygiene. We've all been in ruts- that's why we're here to help "reVive" your routine. Changing your entire routine can be overwhelming (and pricey), so we've compiled 5 ways to make your current routine exciting again without needing a big budget.
1. LED Light Therapy
You were waiting for that one, huh? Even though light therapy isn't a new innovation, it has recently been made accessible to consumers. With proven technology and clinical results, who wouldn't want to add light therapy to their current skin care routine? Our lights are FDA cleared and FSA approved. Shameless plug to advertise our efficacy. See our lights in action with our influencer, Beauty By Anne-Marie. Her results are stunning.
2. Add Facials
Facials can be an at-home DIY project or you can "treat yo'self" to a professional facial. Whichever method you prefer, facials can be an excellent way to unwind all while cleansing, exfoliating, nourishing, and promoting a clearer complexion.
3. Steam Your Face
Don't have time for a full on facial session but still want a relaxing activity that opens your pores? Steaming your face is an easy way to achieve that.
Grab a microwavable bowl, fill 3/4 of the bowl with water
Put the bowl in the microwave for 5 minutes
Grab bowl with towel
Place the bowl on the table and with the towel over your head
Hover your face above the water for 5-7 minutes
For an invigorating pore purification, add herbal steams. They can make the air smell great, too.
4. Natural scrub
There are several cost-effective ways to exfoliate your skin, but this idea surely takes the cake as a cheap solution to slough off dead skin cells. Cut a lemon in half and dip one half in sugar while the other is wrapped in tinfoil until next use. With the lemon half covered in sugar, gently rub in circular motions on to damp skin. When finished, wash your face with luke-warm water.
5. Green Tea Extracts
Green tea extracts can be applied to your skin after cleansing. Adding herbal products to your routine has been known to demonstrate anti-inflammatory and antioxidant effects. Green tea may have anti-aging effects by reducing inflammation and hunting down free radicals. You can also pair green tea extract with our LED light therapy anti-aging system to see the green tea work up to 10 times faster. You shouldn't have to mindlessly tend to your skin. Give these refreshing tips a try and let us know which idea made you excited to wash your face.
Health & Beauty Tips
At reVive Light Therapy, we are committed to sharing health and beauty tips to enrich your life. Everyone deserves to live an empowered life and we want to help you get there. If you suffer from acne, wrinkles, or pain, our light therapy products can help.
Sources
LED Light And Green Tea Cream Smooth Facial Wrinkles. (2009, September 9). Retrieved August 4, 2017, from https://www.sciencedaily.com/releases/2009/09/090909103013.htm
Stallings, A. F., MD, & Lupo, M. P., MD, FAAD. (2009, January 2). Practical Uses of Botanicals in Skin Care. Retrieved August 4, 2017, from https://www.ncbi.nlm.nih.gov/pmc/articles/PMC2958188/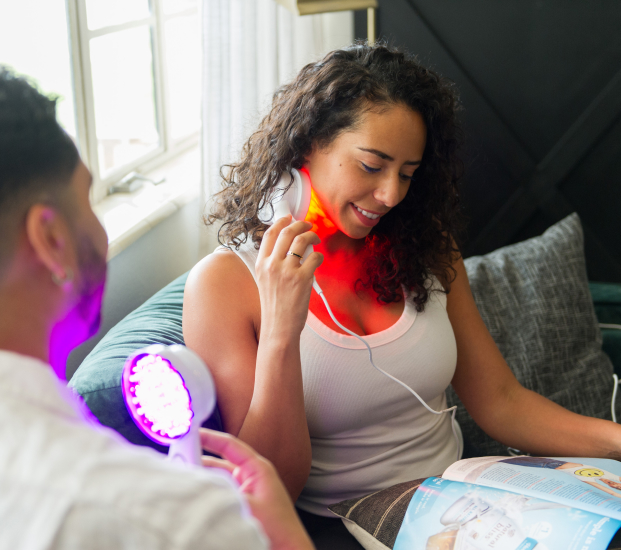 Experience the power of light therapy at home
Specific wavelengths of light have different effects, and can be used for a variety of applications — from destroying acne-causing bacteria to killing harmful germs on your phone. Our light therapy devices allow you to harness the power of LEDs in the comfort of your own home.
See How It Works