How Can I Tell if My Light Therapy Is Working?
Reading Time:
3
minutes
Red light therapy boasts an array of enviable results, including fewer fine lines, reduced wrinkles, firmer and more elastic skin, and a brighter, more even complexion. Adding blue light to the mix not only destroys acne-causing bacteria diminishing existing acne, but helps prevent future acne breakouts.
While you'll likely see positive changes in acne after a day or two of blue light therapy, it can take up to two weeks to see the full effects. For red light therapy wrinkle-reduction, it takes even longer – up to 10 weeks — to see the full results.
And while it's worth the investment of just a few minutes a day to fight back against acne or wrinkles, it's hard to really appreciate how much change there has been over multiple weeks.
So, how do you know if your light therapy is working for you?
Well, first things first: You have to make sure you're doing your light therapy right. And that means getting two vital elements right: frequency and consistency.
Frequency
The great thing about light therapy is that you don't have to give up a big chunk of your day to do it. In fact, whether you're looking to diminish wrinkles or acne, it only takes 3 minutes per day, per treatment area to do it right.
If you're looking to do full-face or other large-area treatments, you'll want a larger device like a panel. But there are also lots of choices of handheld and portable devices that can spot treat crow's feet, smile lines, or small acne outbreaks in a more targeted way – just know that for larger areas or outbreaks, these small devices will require several 3-minute treatment rounds to cover the area.
But with the right device for your needs, you can easily incorporate light therapy into your existing morning or nighttime skincare routine. And if you feel like once a day isn't cutting it, you can safely treat up to 3 times a day.
Consistency
The other time-related element of doing light therapy right is being consistent.
Again, the changes you're looking for may take time, so don't give up if you don't see results right away.
Basically, use your light therapy device at least once every day for two weeks if you're treating acne, and for 10 weeks if you're trying to reduce wrinkles.
Once you achieve the results you want, you can scale back gradually to two or three times a week for maintenance.
If you notice a deterioration, just ramp your consistency back up a bit.
Seeing the Results
Light therapy changes your skin from within, which takes time. That means you're probably not going to see results right away – especially for wrinkle reduction. You're probably not going to notice the changes that do happen by scrutinizing yourself in the mirror everyday (and who needs that kind of stress, anyway?).
Most of the changes that light therapy deliver are gradual and cumulative, so skip the daily inventory of wrinkles. Instead, take before, during, and after photos once a week. These will better capture the accumulating benefits of your commitment to regular light therapy sessions.
But, like light therapy itself, taking photos of your progress only works if you do it right. Here, too, consistency is king. To see your results most clearly, be sure you take your photos every time:
With a clean face

Makeup was made to cover up those little "imperfections". Not to mention what we wear, how much we wear, and how we wear it change from day to day. The only way to get a real read on your light therapy results is to remove it all and go bare-faced.

With the same camera

Different cameras have different resolutions, lenses, and settings. Remove the variables that make comparing pics hard by using the same camera every time.

With the same pose and expression

Strike the same pose each time you take your pic—and use the same expression. You can't compare the change in your smile lines if you're only smiling in one of the pics.

From the same angle and distance

It's almost impossible to gauge the change in your skin with pics from different angles. Straight on, top down, bottom up – it doesn't really matter, as long as you're consistent. And the same goes for the distance of the shot. Whether you're focusing on a close-up or an arm-length selfie, be sure to do it the same way every time.

In the same light

Whether it's the morning light through the window or the vanity mirror light, be sure it's the same in every shot. Even small differences in light intensity and angle can cast shadows or illuminate features in different ways, making comparisons difficult, at best.

At the same time of day

No matter what you do, your just-waking-up morning face looks different than your after-a-long-day-at-work face. Taking your pics at the same time of day will help ensure the random factors of life don't interfere with your comparisons.
Learn more about the differences between red and blue light devices and more on our blog. For additional questions, check out our FAQs, or contact us.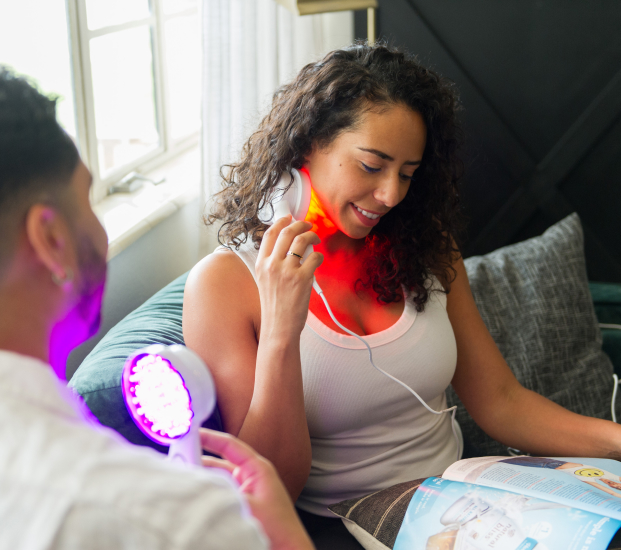 Experience the power of light therapy at home
Specific wavelengths of light have different effects, and can be used for a variety of applications — from destroying acne-causing bacteria to killing harmful germs on your phone. Our light therapy devices allow you to harness the power of LEDs in the comfort of your own home.
See How It Works