Dr. Rahi Reveals Skincare Secrets with reVive Light Therapy®
Reading Time:
3
minutes
Time to level up your skincare game and unveil that radiant, healthy glow you've been coveting? We've got you covered. We're excited to introduce you to the world of reVive Light Therapy® through an exclusive interview with Dr. Rahi Sarbaziha, MD, a renowned integrative aesthetics specialist in Beverly Hills, California. If you're curious about the benefits of LED light therapy and how it can revolutionize your skincare routine, keep reading.
Meet Dr. Rahi: A Pioneer in Integrative Aesthetics
Dr. Rahi, as her clients call her, is synonymous with cutting-edge aesthetic treatments prioritizing safety, results, and innovation. As a forward-thinking professional, Dr. Rahi continually explores advanced technologies to provide her clients with the latest treatments that deliver serious results.
"Throughout my career, I have been dedicated to providing my patients with the latest and most effective treatments to enhance their skin health and overall appearance. As a professional, I always prioritize safety and results, which is why I continually explore innovative technologies and therapies that can benefit my clients." -Dr. Rahi Sarbaziha, MD
LED light therapy, a non-invasive and painless treatment, is gaining rapid recognition in the skincare world for its ability to rejuvenate the skin from within. Dr. Rahi highlights its incredible benefits, including promoting collagen production, reducing inflammation, and improving circulation. According to her, the secret lies in specific wavelengths of light that stimulate cellular processes within the skin, making LED light therapy a versatile solution for addressing a wide range of skin concerns.
From Acne to Rosacea: Skin Woes, Meet Solutions
Dr. Rahi's clients arrive at her Rodeo Drive office with various skin complaints, ranging from acne and fine lines to uneven skin tone and dullness. Some even seek help for more complex conditions like post-inflammatory hyperpigmentation and rosacea. With such diverse challenges to address, Dr. Rahi employs a holistic approach to skincare that combines LED light therapy with other aesthetic procedures, resulting in comprehensive and efficient solutions.
How LED Light Therapy Transforms Skin
"LED light therapy is a non-invasive and painless treatment that utilizes specific wavelengths of light to stimulate various cellular processes within the skin. This therapy has shown numerous benefits, such as promoting collagen production, reducing inflammation, and improving circulation." – Dr. Rahi Sarbaziha, MD.
At the core of Dr. Rahi's treatment plans lies LED light therapy—a game-changing solution that seamlessly complements other procedures. Clients reap the benefits of painless and downtime-free sessions, making LED therapy the perfect choice for those seeking safe, non-invasive solutions. By integrating LED light therapy into her practice, Dr. Rahi enhances her clients' experience by offering a well-rounded approach to skin health.
Science + Beauty = A Winning Combo
The key to Dr. Rahi's confidence in LED light therapy lies in its proven effectiveness, validated by rigorous scientific research. It consistently delivers results by promoting collagen production, minimizing wrinkles, and improving skin texture and tone. The non-ablative nature of LED light therapy ensures it doesn't harm the skin's surface, making it ideal for all skin types, as well as long-term use.
Enter reVive Light Therapy®: Elevating Your Skincare Game
In Dr. Rahi's practice, the star of the show is the reVive Light Therapy® Lux Collection  LED Treatment Panel—a cutting-edge LED light therapy device designed specifically for professional use, which Dr. Rahi tailors to meet each client's unique needs. The panel's unmatched versatility and effectiveness make it an indispensable tool for optimal skin health and rejuvenation. And the best part? You can use it at home, and it takes only three minutes of use a day to start seeing results after two weeks. 
"In my office, I exclusively use the reVive Light Therapy® Lux Panel, which is specifically designed for professional use. This advanced LED light device offers a range of wavelengths, allowing me to customize treatments to meet the unique needs of each individual client. The reVive Light Therapy® Lux Panel's effectiveness and versatility make it an essential tool in my practice for achieving optimal skin health and rejuvenation." -Dr. Rahi Sarbaziha, MD
Real Results, Real Stories
With consistent use, reVive Light Therapy® smooths wrinkles, improves skin tone, banishes breakouts, and more. Our consumer study found that over 97% of participants using our anti-aging light therapy reported visible skin texture and tone improvements after 10 weeks.
"Since introducing reVive Light Therapy® products in my practice, I have witnessed remarkable improvements in my clients' complexions. Many have reported reduced acne breakouts, diminished fine lines and wrinkles, and a more even skin tone after consistent sessions. The overall texture and radiance of their skin have significantly improved, leaving them satisfied with the outcomes of the treatments." -Dr. Rahi Sarbaziha, MD
Achieve Your Brightest Glow with reVive Light Therapy®
If you're ready to transform your complexion, the journey starts with reVive Light Therapy®. Say goodbye to skin concerns and hello to a new era of skincare that is painless, effective, and safe. Backed by the expert testimonial of Dr. Rahi, the transformative power of the Lux Collection LED Treatment Panel is your secret to smoother, clearer skin. Isn't it about time you let your skin shine?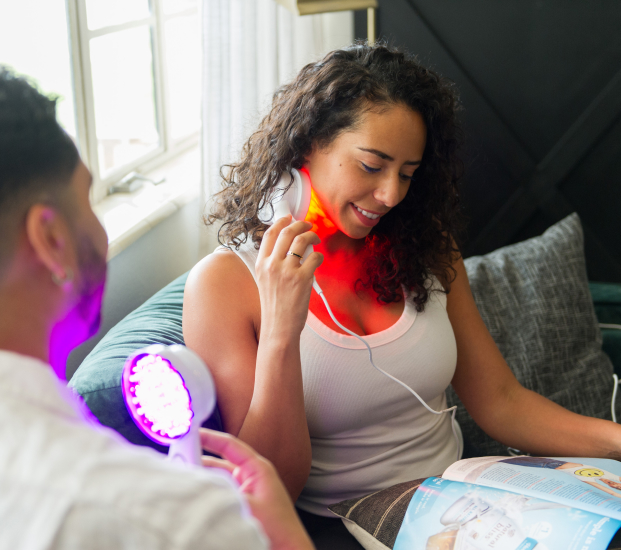 Experience the power of light therapy at home
Specific wavelengths of light have different effects, and can be used for a variety of applications — from destroying acne-causing bacteria to killing harmful germs on your phone. Our light therapy devices allow you to harness the power of LEDs in the comfort of your own home.
See How It Works