Mother's Day Gift Guide
Reading Time:
2
minutes
Mother's Day is almost here, along with your chance to spoil her rotten. Give her the gift of glow with these best skincare gifts for Mom from reVive Light Therapy®. Because she deserves to look and feel her best today and every day after. And there's no better gift than that.
For the mom who's always scrubbing something, give her the gift of a spotless face. The ultimate 3-in-1 skin-rejuvenating device, the Soniqué comes with two brush heads, one for exfoliation and one for serum massage, along with a red light setting to combat signs of aging and a blue light setting to banish acne.
It doesn't get any more luxurious than the wrinkle-reducing, acne-destroying, fine line-eliminating wonder device that is the reVive Light Therapy® Lux Collection dpl IIa. Featured in Good Housekeeping, Women's Wear Daily, New York Magazine, and more, and as easy to use as opening a book, it's the perfect way for Mom to treat herself with just three minutes of daily use.
Let's face it, with age comes wisdom, and possibly some unwanted droopiness. The reVive Light Therapy® Lux Collection Clinical's triangular shape makes it easy to tighten and smooth her eye area, diminishing fine lines, puffiness, and wrinkles.
If Mama won't leave the house without her lipstick, give her the gift of a flawless pout with our reVive Light Therapy® Lux Collection Lip Plumper, which uses FDA-cleared light therapy technology to add volume, increase collagen production, smooth fine lines, and increase circulation.
If Mom is always off on another adventure, make it simple for her to take her skincare routine with her. Easy to pop into a suitcase, carry-on, or purse if she's extra, the reVive Light Therapy® Lux Essentials has all the anti-aging and acne-fighting benefits of our other devices in a more compact shape.
Is Mom not one for large gadgets? Give her the gift of the tiny and totable reVive Light Therapy® Lux Collection Glō, a portable LED light therapy wand ideal for mom's basic skincare needs, offering both anti-aging and anti-acne in one device.
For the mom who loves to relax and indulge in her beauty routine, look no further than the reVive Light Therapy® Lux Collection Soniqué Mini Cleanser. With all the power of the original Soniqué in a mini size, the Lux Collection Soniqué Mini includes two different brush heads for exfoliation and serum massage, and two LED light therapy settings to combat wrinkles, fine lines, dullness, and acne-causing bacteria.
Whether she's a skincare enthusiast or just enjoys pampering herself, reVive Light Therapy® is the best way to make Mom feel loved and appreciated.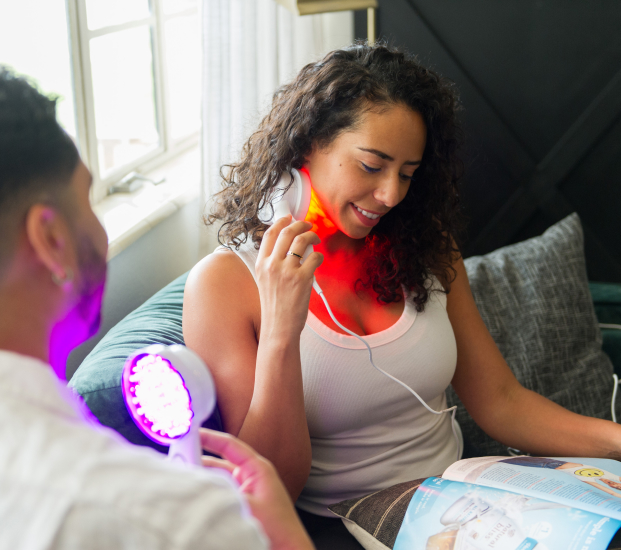 Experience the power of light therapy at home
Specific wavelengths of light have different effects, and can be used for a variety of applications — from destroying acne-causing bacteria to killing harmful germs on your phone. Our light therapy devices allow you to harness the power of LEDs in the comfort of your own home.
See How It Works