7 Ways to Get the Most Out of Your Light Therapy Device
Reading Time:
4
minutes
Getting more bang for your buck is the goal in every purchase, right? There are many ways you can get the most out of your light therapy device, from combining it with different treatments to simply taking care of it properly. 
Can You Use Your Light Therapy Device Too Much? 
Contrary to other skincare treatments, light therapy responds well to daily, multiple uses, and using it more than once a day will provide faster results. For each treatment area, you should use your device for the length of time that the instructions recommend, which varies based on device. You can use your light therapy device up to three times per day for best results. 
Before you start to use your light therapy device regularly, you should test your device to make sure your skin doesn't have an adverse reaction. You can do so by testing the device on your forearm for no more than three minutes. If there is no reaction after 2 hours, you can proceed using your light therapy device regularly.
How Long Can You Use Your Light Therapy Device For? 
How long you should use your light therapy device depends on the type of device. For acne and wrinkle reduction light therapy devices, we recommend 3 minutes per treatment area. Pain recovery devices will vary between 14 and 25 minutes, depending on the target area and type of device. For our oral health devices, the timing varies from 10-20 minutes depending on the application. The important thing is to read the instructions and reach out to customer care if you have any questions.
How to Get the Most of Your Light Therapy Device
1. Track progress with before and after photos
If you're using one of our skincare devices, before you light it up, snap a few photos of your face. We recommend a clean, no makeup look with a headshot and profile photos for each side. After 4 weeks of consistent light therapy use, repeat the photo process. After 12 weeks of consistent use, take another round of photos then compare the differences. Take the photo in the same place and at the same time of day for consistency in your photos.
Because our lights are noninvasive and work from the inside out, changes to your skin such as the fading of acne or the decreasing of wrinkles may be gradual. But you'll be happy you tracked your progress, because changes are noticeable!
2. Set a reminder
You're busy. How does a busy person find time to 'reVive' their skin? By setting a daily reminder, of course. Set an alert on your phone to make sure you're getting in your daily skin rejuvenation. Schedule out those light therapy sessions.
3. Be consistent
Light therapy works best on a consistent basis. The easiest way to use your light therapy device regularly is to make it a part of your routine. 
If you're using an anti-aging or acne treatment device, make it a part of your skincare regimen. 
If you're using a light therapy device for workout recovery, make it a part of your pre-workout and/or post-workout routine. Using your light therapy devices before working out can help you prepare for working out, while using your device after can help you recover from pain and soreness faster.
4. Start with a clean slate
If you are using a light therapy device on your face, starting with a clean face is essential for full effectiveness. Cleanse your skin thoroughly before you use your device, especially if you are wearing sunscreen or using moisturizer that contains sunscreen. Sunscreen blocks a broad range of light wavelengths, which can reduce the effects of your LED light therapy device. 
5. Combine light therapy treatment with serums & extracts
If you're interested in faster results, then there are many skincare products you can combine with your light therapy device to speed up the process, including: 
Green tea extract: According to American Chemical Society, pairing "LED light therapy with green tea extract works 10 times faster than a similar anti-wrinkle treatment that uses LEDs alone." 
Other tea extracts: One influencer, Beauty by Anne-Marie, pairs white tea extracts with her device. Black tea extract can also be used with light therapy for anti-aging benefits. 
Vitamin C serum: Using Vitamin C serum with red light therapy can help brighten your complexion and boost your radiance. 
Retinol: While previously it was believed that retinol and LED light therapy shouldn't be used at the same time, now research shows that you can combine retinol and red light therapy for maximum anti-aging benefits if done in the right order. You should always use your light therapy device before applying your retinol product. That is crucial to avoid any unexpected skin reactions. 
Other anti-aging creams or serums: Look for products with hyaluronic acid, peptides or argan oil to combine with your light therapy device. 
Salicylic acid and BHAs: Beta hydroxy acids, or BHAs, are often in creams, ointments, or cleansers that treat and prevent acne. These products can work well with blue light therapy devices.
To see how light therapy fits into your skincare regimen, read our guide on the best skincare routine order.
6. Use multiple times a day
Unlike other skin care routines, light therapy can be used multiple times a day. As long as your skin shows no light sensitivity reactions (very uncommon) and your schedule allows it, light therapy may be your best kept secret for youthful, clear skin. If you need to zap a zit pronto, #getglowing with that light therapy and watch it fade away with each treatment. Have an event to attend later in the week? Shine that light as much as your heart desires.
7. Take care of your device
Taking care of your light therapy device makes sure you can make the best of your investment in your light therapy products. While it may seem obvious, you should turn off your device while it's not in use and also clean it properly using the device instructions.
Light Therapy: A Part of Your Everyday Routine
All of our light therapy devices are designed to easily integrate into your everyday wellness routine, whether that's your morning skincare ritual or your post-workout recovery. It's easy to make the most of your light therapy device by using it consistently, caring for it properly, and maximizing its effectiveness by combining it with other recommended products. Experience the benefits of light therapy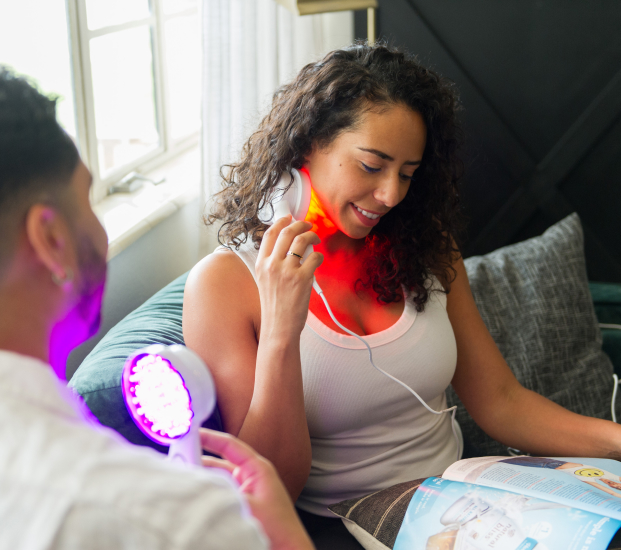 Experience the power of light therapy at home
Specific wavelengths of light have different effects, and can be used for a variety of applications — from destroying acne-causing bacteria to killing harmful germs on your phone. Our light therapy devices allow you to harness the power of LEDs in the comfort of your own home.
See How It Works