How Light Therapy Can Reverse, Protect and Heal Sun Damaged Skin
Reading Time:
2
minutes
With summer ending, you might be heading into the Fall season with a little sun damage. Sunburns and peeling skin never looked good on anybody. All the extra exposure to the UVA/UVB rays may have attacked your glowing appearance. Here are some ways you can recover, heal, and reverse this summer's sun damage:
Add light therapy to your skin care routine
Long, unprotected sun exposure slows collagen production and increase the appearance of fine lines and wrinkles. Anti-aging light therapy devices revive and stimulate collagen production, reducing the appearance of fine lines and wrinkles. Red, infrared, and amber lights increase circulation, reducing the appearance of redness and encourage cellular repair.
Protect skin with broad spectrum sunscreen
According to the American Cancer Society, traditional sunscreen only blocks UVB rays and allows UVA rays to penetrate deep into the hypodermis, leading to signs of aging, sagging skin, and uneven skin tones. When skin is protected with broad spectrum UVB/UVA applied sun screen, less sun damage occurs. Be sure to reapply at least every two hours.
Exfoliate to reveal youthful skin
Removing dead skin cells may help reveal smooth, bright, lustrous skin. By scrubbing gently with a textured cloth, extra layers of dead skin holding on to brown pigments can be removed, resulting in an even skin tone.
Green tea moisturizer
UV exposure encourages early onset of wrinkles and skin aging. Treating skin with a green tea moisturizer can provide antioxidants and anti-inflammatory responses in the skin, which slow the signs of aging. Pro tip: after cleansing facial skin, apply green tea moisturizer before anti-aging light therapy treatment to increase the green tea's effectiveness up to 10 times. Catch up with our influencer, Beauty By Anne-Marie, where she shares her skin care routine to reverse sun damage: Restore youthful skin this Fall with anti-aging light therapy devices. Shop our anti-aging line now.
Health & Beauty Tips
At reVive Light Therapy, we are committed to sharing health and beauty tips to enrich your life. Everyone deserves to live an empowered life and we want to help you get there. If you suffer from acne, wrinkles, or pain, our light therapy products can help.
Sources Effect of the sun on visible clinical signs of aging in Caucasian skin. (2013, September 27). Retrieved August 31, 2017. How Do I Protect Myself from UV Rays?. (2017, March 19). Retrieved August 31, 2017. LED Light And Green Tea Cream Smooth Facial Wrinkles. (2009, September 9). Retrieved August 31, 2017.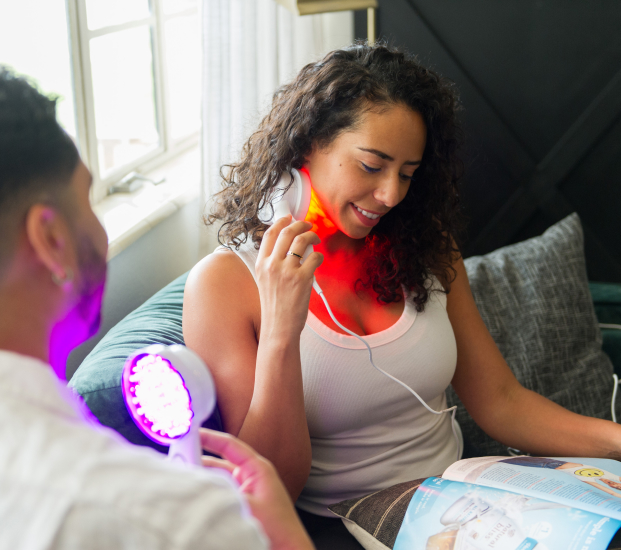 Experience the power of light therapy at home
Specific wavelengths of light have different effects, and can be used for a variety of applications — from destroying acne-causing bacteria to killing harmful germs on your phone. Our light therapy devices allow you to harness the power of LEDs in the comfort of your own home.
See How It Works