Summer Skincare Essentials
Reading Time:
3
minutes
Enjoying the warm weather and having some fun in the sun is what summer's all about. But with all that outside time, you'll need more than just sunscreen to properly take care of your skin. With our best summer skincare products from reVive Light Therapy®, you can keep your skin clean and healthy all summer long!
Sunburn isn't the only skincare-related issue you have to worry about during summer. When temperature and humidity levels rise, sweat doesn't get a chance to evaporate off your skin, causing pore blockage and breakouts. On top of that, prolonged exposure to the sun can cause your skin to lose elasticity and age prematurely.
But don't worry! You don't have to cower under your beach umbrella, waiting for September to roll around. We've pulled the five best summer skincare products from our reVive Light Therapy® Lux Collection that will protect, cleanse, and heal your skin during these hot summer months.
It's pool season—which means it's the perfect time to wear that brand new swimsuit you're really excited about! With the Lux Collection dpl lla LED Light Treatment Panel, you don't need to be shy about showing some skin.
Chest, neck, and back areas get more exposure during the summer months. The LED Light Treatment Panel is perfect for soothing larger areas of skin and reducing acne and inflammation. Use the blue light setting for getting rid of acne flare-ups, red light to promote younger looking skin, or the combo setting for both at the same time!
There's nothing like coming home after a long, hot day and cleaning your face with one of our best summer skincare products. The Lux Collection Soniqué LED Sonic Cleanser is perfect for a deep, restorative clean after a day of fun.
The Soniqué works to soothe and cleanse, while the sonic vibrations massage your skin and open your pores for a deeper clean. It comes in regular size or mini, so you can bring it along wherever your vacation takes you. Use for just a few minutes each day and you'll have smooth, glowing skin along with a summer tan.
Your lips can start to feel a bit sensitive after a full day in the sun, which can be uncomfortable when you're trying to enjoy a bite to eat. Maintain your lip health this summer with reVive Light Therapy® Lux Collection Lip Care. Using a combination of infrared, deep red, red, and amber light, our Lux Collection Lip Care encourages blood flow to your lips and supports healthy collagen, improving color and texture.
It never hurts to save some room in your suitcase when packing for a summer trip. reVive Light Therapy® Lux Collection Essentials are compact and portable, so you can take your skincare routine with you wherever you go. With these Essentials, you can maintain a fresh, healthy glow while you travel. Just pop them into your carry-on and enjoy your vacation, without worrying about breakouts caused by sun exposure and hotel pillows.
Sweating in the summer is inevitable, especially if you're spending long days at the beach or a park. Sweat coupled with high humidity creates a blanket of moisture on your skin, clogging your pores and causing breakouts. Our Lux Collection Spot Acne Treatment is perfect for these flare-ups.
Using both blue and red light, the Lux Collection Spot Acne Treatment gently destroys bacteria under the skin and reduces subsequent inflammation. Blue light pinpoints your pores and reduces the bacteria built up inside them while red light reduces acne associated inflammation, preventing future scarring. This keeps your face acne-free and prevents your skin from becoming oily.
Rotate our best summer skincare products into your routine and amp up that summer glow! Use any of these products for just a few minutes a day on clean skin for healing and protection. Enjoy flawless skin this summer—and the confidence that comes with it!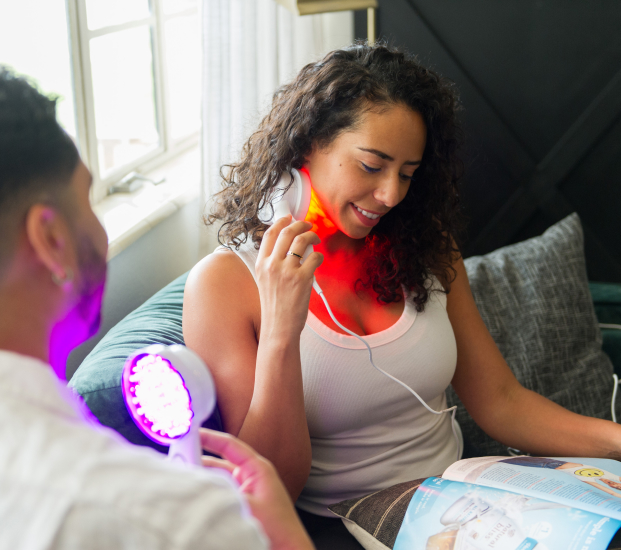 Experience the power of light therapy at home
Specific wavelengths of light have different effects, and can be used for a variety of applications — from destroying acne-causing bacteria to killing harmful germs on your phone. Our light therapy devices allow you to harness the power of LEDs in the comfort of your own home.
See How It Works