3 Ways LED Light Therapy Differs From a Tanning Bed
Reading Time:
4
minutes
We've noticed a trend in consumers wondering if shining light-emitting diode (LED) light therapy on their skin could result in cancer in the same way that using a tanning bed can.
There are three major differences between reVive Light Therapy® and tanning beds, all of which are important to consider when choosing an LED Light Therapy device. Read on to learn more about these differences, get answers to questions regarding tanning beds and joint pain, and find out if red light therapy is right for you.
Light Therapy vs. Tanning Bed
Phototherapy is a form of light therapy that aims to help treat various skin conditions like acne, wrinkles, and fine lines. Our phototherapy differs from tanning beds as it doesn't use any ultraviolet (UV) light. Phototherapy has been shown to aid recovery from sports-related injuries as well.
reVive Light Therapy® by LED Technologies, Inc. is both effective and safe. Here are three ways light therapy differs from tanning beds.
1. reVive Light Therapy® Does Not Emit Harmful UV Rays.
Developed by NASA research, LED light therapy aimed to provide astronauts with "good" light spectrums while spending copious amounts of time in space. Since it has been made available for consumers, we can deliver concentrated doses of the effective, non-harmful light spectrums to the body, revealing clear, wrinkle-reduced, brighter-looking skin.
2. reVive Light Therapy® Devices Are FDA-Cleared.
reVive Light Therapy® has achieved high standards by receiving clearance from the Food and Drug Administration (FDA) for our LED products. Being FDA-cleared means you can feel confident using our devices.
3. Tanning Beds Stimulate Melanocytes. LED Light Therapy Stimulates Collagen Production.
Quick dermatology lesson — melanocytes are cells that produce melanin. Melanin tans your skin.
When skin is exposed to UVA lights, your skin rapidly produces melanin to shield itself from burning. However, the harmful light emitted by a tanning bed is also reaching your skin's epidermis, bringing on a host of other health-related issues.
When reVive Light Therapy® lights reach your epidermis, they stimulate collagen and elastin, the agents responsible for keeping your skin youthful. Our anti-aging treatments can soothe the skin, and reduce aging signs. Our LED light therapy anti-aging systems can also reduce fine lines and wrinkles brought on by previous tanning bed habits.
What Light Is Used in Tanning Beds?
Tanning beds use lighting from fluorescent light bulbs — typically 100-watt or 140-watt lamps — that emit UV rays. Most of these are UVA rays, also called "tanning rays," along with smaller traces of UVB. In most cases, UVA rays are less likely to cause sunburn than UVB.
However, any type of UV radiation exposure — whether from the sun or tanning equipment — can increase the risk of skin cancer development and compromise the body's ability to fight illnesses. UV radiation from tanning beds can also affect the eyes, making safety goggles a must.
Are Red LightBeds Safe?
In addition to conventional tanning beds, many tanning salons, gyms, and medical spas offer red light therapy. This red light treatment, also done on a light bed, is typically marketed as UV-free. Red light beds are generally safe, but you don't always know exactly what type of light you're getting when it comes to tanning salon treatments.
It's best to use an FDA-cleared device for red light therapy. You can use some right at home, following the manufacturer's instructions to achieve optimal results. Red light therapy home devices don't involve any harmful UV radiation, unlike tanning beds. Additionally, you can use flexible spending account (FSA) funds on many reVive Light Therapy® FDA-cleared light therapy devices since many are designed to assist medical conditions like acne and arthritis pain.
There's virtually no risk of overdoing these treatments, as long as you follow the product user instructions, but you should cease treatment and contact your physician if you do notice abnormal results.
Does Red Light Therapy Tan You?
In short, no. While red light therapy can help repair and rejuvenate skin, it won't tan you since it doesn't emit the same UV rays that conventional tanning beds use.
How Red Light TherapyHelps with Joint Pain and Anti-Aging
Red light therapy beds involve low levels of near-infrared or red light to improve the health and appearance of the skin. While effective, light therapy beds require frequent salon visits to achieve and maintain results. Red light therapy home devices can be a more convenient alternative.
Cost is another factor to consider. A red light therapy session at a spa or salon may cost anywhere from $30 to over $100. Because frequent use is required to reap the benefits, this cost can snowball quickly.
If you want to address facial skin concerns, you might consider a smaller, handheld red light therapy device rather than a full-body light therapy bed. Red light therapy devices have been shown to provide numerous health benefits, particularly in terms of pain relief and reducing signs of aging. Here are some benefits associated with this treatment:
Stimulates collagen production for skin structure, elasticity, and strength
Boosts blood circulation to tissues
Reduces cell inflammation
Reduces fine lines, wrinkles, and age spots
Improves scars, and sun-damaged skin
reVive Light Therapy® Anti-Aging Devices are designed to eliminate or reduce wrinkles, dark spots, and crow's feet. These medical devices are FDA-cleared and completely skin-safe.
Additionally, our LED Light Therapy Devices for Joint Pain are an affordable and convenient solution to relieve sore, achy joints. These FDA-cleared products can also help relax the muscles, ease stiffness, reduce spasms, and improve blood circulation.
Learn More About Our at-Home Red Light Therapy Devices
Everyone deserves to live an empowered life, and we want to help you get there. From acne to wrinkles to back pain, our light therapy products can provide relief in several areas. Purchase our red light therapy devices for skincare and pain relief today!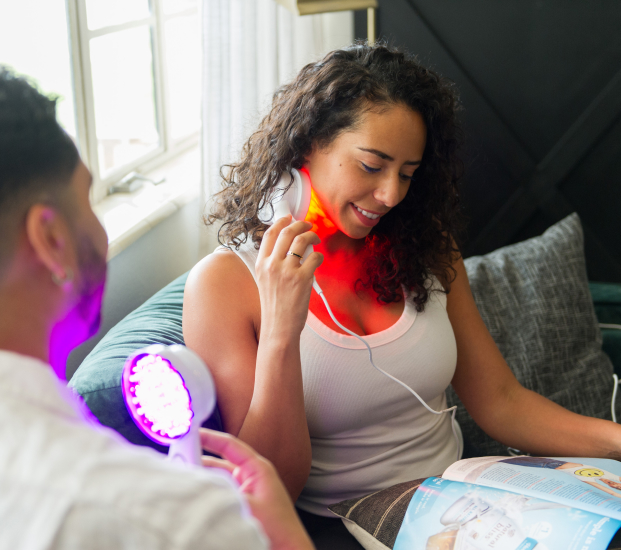 Experience the power of light therapy at home
Specific wavelengths of light have different effects, and can be used for a variety of applications — from destroying acne-causing bacteria to killing harmful germs on your phone. Our light therapy devices allow you to harness the power of LEDs in the comfort of your own home.
See How It Works