Comparing Handheld Light Therapy Devices
Reading Time:
3
minutes
Our reVive Light Therapy® and dpl® Light Therapy brands offer a wide range of home light therapy products. They come in different sizes, shapes, and prices. And they're meant to address very different issues, from wrinkle reduction to acne control and prevention to pain relief.
Here, we'll break down the differences in our various handheld devices, so you can make the best choice when deciding which one is right for you.
Comparing the Handhelds
Before looking at the specific products, it's helpful to know that our various handhelds (the ones that look like a "showerhead") devices come in three different modalities, each with their own features and benefits:
Wrinkle Reduction and Anti-Aging
3-minute treatment time
Combined Infrared (IR) 880nm, Deep Red 660nm, Red 630nm, and Amber 605nm light spectrums
Reduces fine lines and wrinkles, including smile lines, crow's feet, and brow lines
Stimulates natural production of collagen and elastin
Improves uneven skin tone
Minimizing effects of sun damage: sun, age, and dark spots
Rejuvenates and repairs cells below the skin's surface
Acne Treatment
3-minute treatment time
Combined Blue 415nm and Red 630nm light spectrums
Destroys acne-causing bacteria deep within the skin
Calms redness and inflammation
Purifies skin
Stabilizes oil glands
Reduces future flare-ups
Improves uneven skin tone
Reduces appearance of large pores
Pain Relief
15- to 20-minute treatment time
Combined Infrared (IR) 880nm and Red 660nm light spectrums
Stimulates blood circulation
Reduces inflammation
Accelerates healing
Relaxes muscles
Relieves muscle spasms
Relieves pain and stiffness associated with arthritis and physical ailments
Other features and benefits of all our handheld devices include: 
FDA-cleared, OTC Class II device
Easy operation
Safe, all-natural, drug-free treatment
Versatility: Use on face or body
1-year warranty
User guide
So what makes each of our handheld devices special?
Nüve
Our line of dpl® Nüve Professional Grade Light Therapy devices come in all three of the modalities above, with all the benefits of each. Features and benefits that differentiate the dpl® Nüve include:
In short, the dpl® Nüve is the largest of our Professional handheld devices, so if you want to maximize your treatment area for anti-aging, acne, or pain relief, these are the devices for you.
"Red Light Therapy is amazing. The dpl® Nüve has done its job for a long time for my family. We are all very athletic and suffer from hip pain, achilles tears, calf cramps, shoulder pain etc…. This unit is always part of our therapy and increases the speed of recovery by weeks! I highly recommend this product and it is effective if you use it regularly and follow the instructions for red light therapy."

Russel T.
Clinical
Our line of Clinical devices also come in all three of the modalities above, with all the benefits of each. Features and benefits that distinguish the Clinical include:
3″ diameter head (smaller treatment area than the dpl® Nüve devices)
Professional-strength designed specifically for home use
Auto shut-off
AC/DC power supply
Travel bag
Relaxation goggles
Lower price that the dpl® Nüve
In short, the Clinical handheld devices are basically down-sized versions of the dpl® Nüve. If you're just getting started with light therapy, these are effective and budget-friendly ways to do it.
"I love this product, I use it every night and see remarkable results. Easy to use and relaxes you at the same time."

Diane L.
Soniqué
Our reVive Light Therapy® Soniqué devices are distinct among our handhelds. They come in both Anti-Aging and Acne modalities, with all the benefits of each. But their additional features and a different purpose as facial cleansing tools set them apart:
2-1/2″ triangular head allows easy access to all areas of the face
Waterproof design withstands water and cleansers
Sonic vibrations massage skin and open pores for deeper clean
2 interchangeable silicone treatment heads (cleansing and massage)
Use for light therapy alone or light therapy + cleansing

3 settings: light therapy only; light therapy + gentle sonic vibration; light therapy + higher sonic vibration

3-minute light therapy treatment time
Manual control cleansing time
Rechargeable device with USB charging cord and power adapter
In short, the reVive Light Therapy® Soniqué tools are unique among our handheld devices. They combine light therapy with a sonic vibration face cleansing tool. If you're looking for a new level of facial cleansing to go along with your light therapy treatments, these are the devices for you.
"Really liking this product so far. I use the cleansing function with my face wash and the massaging function with my serums. Also use just the light therapy option once daily. My skin is looking great."

Mandy
We want to make your choice between our reVive Light Therapy® and dpl® Light Therapy products as easy as possible. For additional comparison guides, check out our Comparing the Pain Relief Devices and Comparing the Portables article. For additional questions, check out our FAQs or contact us.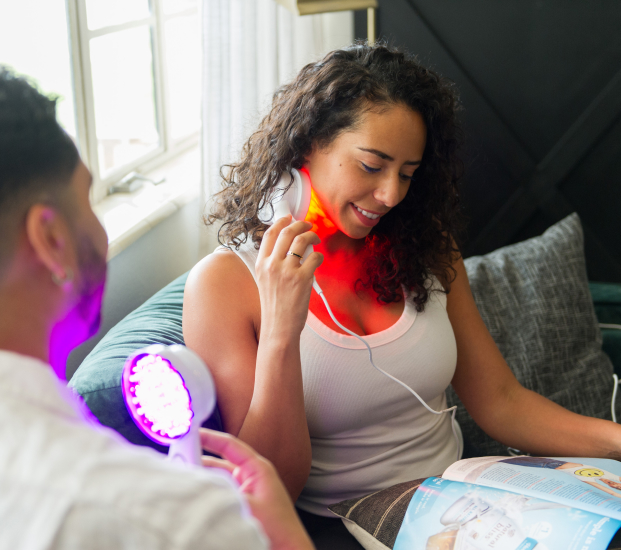 Experience the power of light therapy at home
Specific wavelengths of light have different effects, and can be used for a variety of applications — from destroying acne-causing bacteria to killing harmful germs on your phone. Our light therapy devices allow you to harness the power of LEDs in the comfort of your own home.
See How It Works