Which Light Therapy Devices Can You Buy with Your FSA and HSA Benefits?
Reading Time:
7
minutes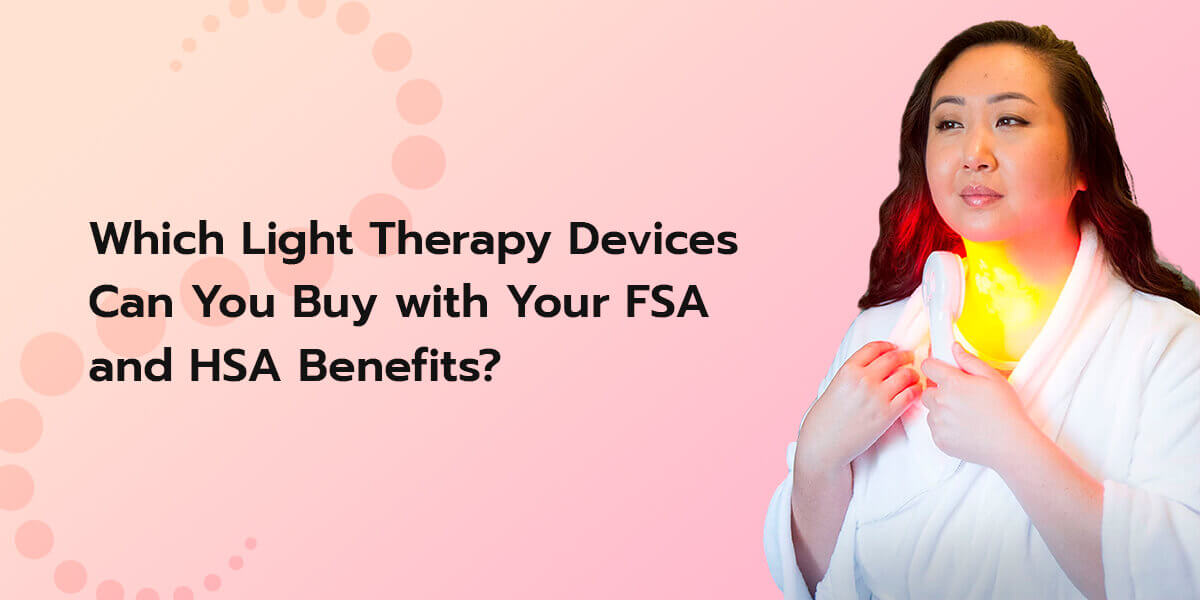 Whether you're trying to spend the remains of your FSA before the end of the year or are looking for a financially-savvy way to fund your wellness aspirations, you'll be happy to know that you can purchase reVive Light Therapy® and dpl® light therapy devices with your FSA and HSA benefits.
However, it's important to note that there are specific requirements for buying light therapy products using FSA or HSA benefits. If you're unfamiliar with these regulations, we'll use the next few sections to explain which light therapy devices are FSA and HSA eligible and how you can purchase these products with those savings account funds.
How Does Using Your FSA or HSA Save You Money?
You may be wondering how buying an eligible light therapy device with FSA or HSA funds benefits you. Because all of your contributions to your FSA and HSA come straight from your paycheck and are pre-taxed, you're essentially saving up to 30% on your HSA or FSA light therapy purchase by using these pre-taxed funds.
Depending on the light therapy device you've been eyeing, some can be quite costly. Fortunately, using your FSA or HSA funds can be a great way to save money and help make this expense more manageable. You aren't required to pay taxes on this money, making an FSA account a great way to pay for eligible out-of-pocket healthcare expenses. The amount of money you save will equal the taxes you would have had to pay on the money set aside.

What's the Difference Between FSA and HSA?
The main difference between an FSA and HSA is the ability for contributions to roll over into the next year. An FSA, or flexible spending account, is employer-owned with account balances that do not roll over year to year. While some employers may allow a certain amount of funds to roll over or provide a grace period, FSA funds are generally "use it or lose it." To maximize the benefits of your FSA, try to use all of those pre-taxed dollars before they expire.
Meanwhile, the account holder controls an HSA, or health savings account. The largest benefit of an HSA is that contributions roll over every year. Unlike an FSA, there are no time limits associated with using these funds. Because you manage this account on your own without employer supervision, you can use this money at your convenience. You can also determine what happens to any unspent funds in your account.
If you don't have an FSA or HSA account yet, you may want to explore opening an account during open enrollment period. You can create an FSA account even if you don't have a health insurance plan, or you can open one alongside your insurance coverage. FSAs have an annual contribution limit of $2,850 — which was recently raised from $2,750 — and declared contribution amounts are available to account holders in full at the first of each year.
To open an HSA during the enrollment period, you must have a high-deductible health plan, not be eligible for Medicare, and cannot be claimed as a dependent on another person's tax return. The annual contribution limits for HSAs recently raised to $3,650 per individual or $7,300 per household.
Is Light Therapy FSA-Eligible?
The product must be FDA Cleared, FSA/HSA approved, and designed for medical conditions and pain management to be eligible for these reimbursements. Every product must undergo a rigorous approval process to qualify for FSA and HSA benefits. You cannot receive reimbursement for your purchase if the product isn't approved, even if it treats pain or acne.
Our reVive Light Therapy® devices for acne treatment are FDA Cleared and eligible for FSA and HSA benefits. The same goes for our dpl® pain and oral care devices. In a later section, we'll discuss eligible pain relief light therapy products you can purchase with these benefits.
Additionally, if you have a Health Reimbursement Arrangement (HRA), you can use those funds for eligible medical and pain-relief light therapy products. With this employer-managed group health plan, you can receive a fixed annual amount of tax-free reimbursements for qualified medical expenses. Depending on the employer, unused funds in an HRA may roll over into subsequent years.
It's also important to note that you can't purchase light therapy using a Dependent Care Flexible Spending Account, or DCFSA. Funds from a Limited Purpose Flexible Spending Account, or an LPFSA, are also not considered eligible.
Is Acne Treatment Covered by HSA?
While many people aren't too startled to learn that they can purchase pain relief or oral care products with their FSA or HSA benefits, products that treat acne tend to be a pleasant surprise for most. Skincare products intended for purely cosmetic purposes are not eligible for FSA or HSA benefits. However, while many see acne as a cosmetic issue, the FDA considers it a dermatological condition, allowing for the approval of many acne-targeted products.
An FSA or HSA savings account extends to a variety of prescription acne medications. It also covers over-the-counter acne treatments such as:
Facial cleansers
Sunscreens
Pimple patches and pads
Spot treatment products
Body washes and gels
Lotions
Sprays
Regular dermatologist visits are typically eligible as well. If you regularly use any of these products or services for chronic acne, you'll be happy to know that FSA or HSA acne treatment is a potential financial solution.
When trying to determine whether a particular skincare product is eligible for FSA or HSA benefits, the FDA has clear-cut regulations and guidelines to help give you some clarity on this matter. Ultimately, whether a product is a cosmetic or drug depends on factors such as its intended use, approval requirements, and labeling.
If you're interested in using light therapy for acne treatment purposes, we'll cover some specific FSA and HSA eligible products in some later sections.

Pain Relief Light Therapy Products You Can Buy with Your FSA or HSA Funds
Light therapy can help relieve pain in a variety of ways. Infrared light therapy devices emit light energy that penetrates through multiple layers of skin to reach muscle tissue and nerves. Cells in the muscle and nerves become more active by absorbing energy from the infrared light. As a result, blood flow increases and cells regenerate faster.
Infrared light therapy is a common treatment for achy, stiff joints and sore muscles, specifically in your neck, shoulders, and feet. Additionally, athletes often see accelerated muscle recovery by using light therapy before and after workouts. Infrared light therapy has also been shown to relieve arthritis pain, chronic back pain, and neuropathy pain.
Depending on your symptoms, there are several different types of light therapy devices available for pain relief. If you want to use infrared light therapy to treat multiple areas of the body, the dpl® Nüve for Professional Pain Relief is an FSA and HSA eligible product you can use to relieve tired muscles and stiff, achy joints. This product's portable, versatile design makes it easy to treat any area of the body, and you can take it with you anywhere you go.
On the other hand, if you're experiencing pain in a specific area, you may want to find an infrared light therapy device that targets that part of the body. Here are some examples of products that can help achieve this:
FSA and HSA Eligible Blue Light Therapy Devices for Acne Treatment
In addition to pain relief, various light therapy devices can also help acne. Blue light therapy can help treat and prevent acne by destroying acne-causing bacteria and stabilizing the sebaceous glands, helping these glands produce less oil over time.
The reVive Light Therapy® Clinical Acne Treatment and Soniqué Acne LED Sonic Cleansing System are popular at-home light therapy treatments that tout a large surface area so you can treat acne faster. There is also the slim Glō Portable Acne Light Therapy Device, which works just as well and is a great option for those who travel frequently with limited space in their carry-ons.
If you simply want to test the waters, only need spot treatments every so often, or want to have an extra device in your purse or car for unexpected acne flare-ups, there are more spot treatment devices covered by FSA and HSA benefits, such as the reVive Light Therapy® Poof, Spot, and Essentials.
On the other hand, if you want your acne treatment to cover larger areas at a time, the dpl IIa comes equipped with two 5" x 7" panels. Its size lets you treat the entire face, back, or décolleté areas in just one three-minute session (per area) — and it's eligible for FSA and HSA benefits.
While blue and red light therapy are suited for different purposes, you can combine them for even more efficient results. Red light therapy is effective for reducing inflammation and accelerating the healing process, while blue light therapy targets acne by destroying bacteria beneath the skin's surface. However, combining these products can treat acne quicker and more effectively.
Our dpl IIa, reVive Light Therapy® Lux Collection and all our Acne Treatment devices are great examples of products that integrate both red and blue light therapy.

Is Red Light Therapy FSA Eligible?
While we've covered multiple blue light and infrared light therapy devices that are eligible for FSA and HSA benefits, you may be interested in using red light therapy to treat medical conditions or relieve pain. Are these products eligible as well?
Not all red light therapy will be eligible for FSA and HSA benefits. However, since our reVive Light Therapy® devices for acne treatment and dpl® pain and oral care devices are FDA Cleared, they are all eligible for FSA and HSA benefits.
Here are some of our FSA-eligible red light therapy products designed to address specific covered issues in the body:
The dpl® Clinical device combines red and infrared light therapy to relax your muscles, treat pain and spasms, and stimulate blood circulation.
The dpl IIa light therapy panel targets the face, neck, hands, chest, back, and legs. You can use this anti-aging device for acne, wrinkles or both at the same time.
The reVive Light Therapy® Soniqué Mini combines sonic cleansing technology with red and blue light therapy to create a powerful and effective skin cleanser for the face and body. It clears up the skin to provide an overall healthier appearance.
Is Red Light Therapy Covered by Insurance?
Despite relieving various ailments and chronic health conditions, infrared and red light therapy products and treatments typically will not be covered by health insurance or Medicare. While this could potentially change as FDA approval continues to expand, there is currently no coverage associated with this practice. However, certain dermatologists may offer targeted red light therapy applications for those with skin issues and conditions.

Is Blue Light Therapy Covered by Insurance?
Health insurance providers may cover blue light therapy in certain cases due to its extensive health benefits. However, this ultimately depends on whether your doctor considers you to be a worthy candidate. Generally speaking, insurance companies will only make exceptions for high-risk patients, such as those with skin cancers or severe sun damage.
To obtain insurance coverage for light therapy treatments, you'll need to talk to your doctor, dermatologist, and insurance company to determine whether you're eligible. Since insurance typically only covers these expenses in rare cases, you'll likely want to have a backup financial plan. This is where an FSA or HSA savings account comes in handy, and you'd likely want to consider this option before health insurance or Medicare. Remember, you'll need to ensure the light therapy treatment or device meets FSA and HSA reimbursement requirements.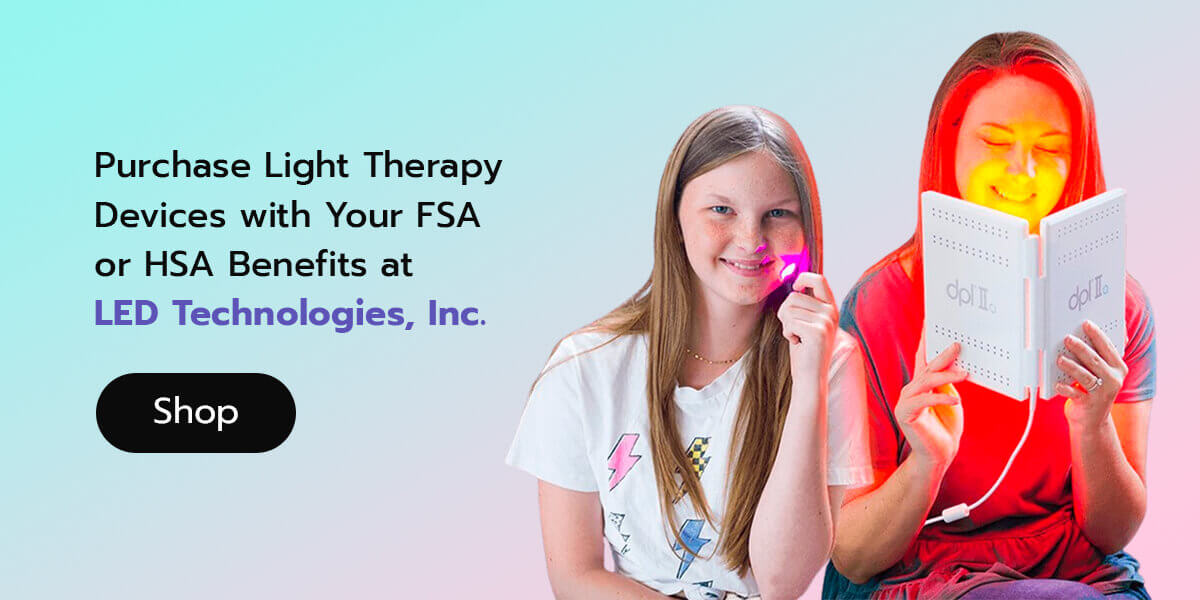 How to Purchase Light Therapy Devices with Your FSA or HSA Benefits
At LED Technologies, Inc., we sell reVive Light Therapy® and dpl® at-home light therapy devices designed to treat some of the most stubborn pains and skin conditions. As of now, we are the only LED manufacturer on the market approved to offer eligible HSA and FSA light therapy devices.
If you'd like to purchase a light therapy device with your FSA or HSA dollars, it's simple:
Check our full list of FSA and HSA eligible light therapy products available.
Make your purchase as you normally would while saving and printing receipts.
Submit the receipt of purchase to your FSA or HSA administrator to get reimbursed.
If you have any questions about how to purchase light therapy devices from LED Technologies with your FSA or HSA funds, please contact Customer support directly at support@ledtechnologies.com for assistance.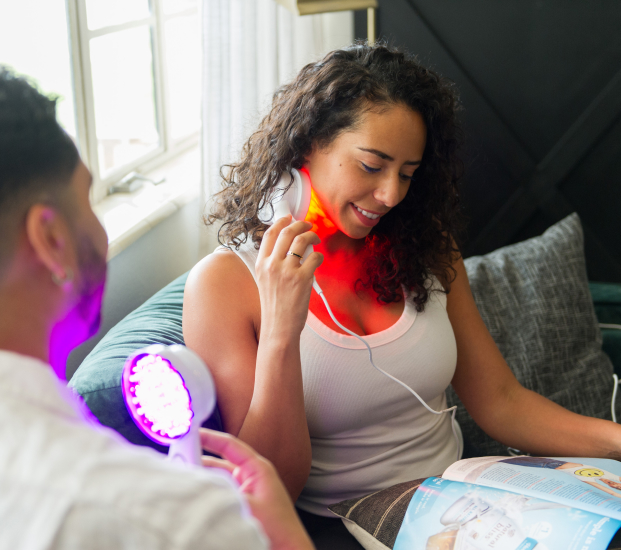 Experience the power of light therapy at home
Specific wavelengths of light have different effects, and can be used for a variety of applications — from destroying acne-causing bacteria to killing harmful germs on your phone. Our light therapy devices allow you to harness the power of LEDs in the comfort of your own home.
See How It Works