FDA-Cleared Light Therapy Devices
Reading Time:
7
minutes
We all know and love the feeling of walking or lying in the sun, taking in the warmth on our skin. It's one of life's simplest pleasures and comes with many fantastic health benefits for us, like reducing stress, keeping us physically active, and providing us with vitamin D.
We also all know the dangers of sun overexposure. The sun emits ultraviolet (UV) rays that can harm our skin. However, you can use light to treat certain skin conditions without the risks. Photobiomodulation therapy (PBMT) uses light-emitting diode (LED) lights for exactly this purpose.
Wondering how LED light therapy devices work and if they are safe for your skin? The safest and most reputable devices, like those offered by LED Technologies, will have clearance from the Food and Drug Administration (FDA). Explore the benefits of light therapy, its different types, and the important distinction between FDA clearance and FDA approval regarding light therapy devices.
Benefits of FDA-Cleared LED Light Therapy
Light therapy was first discovered by Dr. Niels Ryberg Finsen in 1895 and was used to treat tuberculosis infections on the skin. Since then, light therapy has shown to be an incredibly promising treatment for many skin conditions. LED light therapy treats skin concerns like acne and fine lines by entering different levels of the skin's layers. Some of the main benefits of LED light therapy include:
It's noninvasive: LED light therapy can improve the skin's appearance through touch without being as invasive as injections or surgery.
There are no UV rays: With LED light therapy, you can get some of the benefits of light without compromising your skin by exposing it to harmful UV rays.
It doesn't burn: Unlike sitting in the sun for hours, with light therapy, you won't burn your skin if you use it correctly.
It can help with pain management: Near-infrared light therapy can reduce pain and stiffness by penetrating deep into muscles and tissues.
It can improve circulation: Red light therapy can help increase your body's circulation, bringing more oxygen to your cells.
It's convenient: You can experience the benefits of LED light therapy from the comfort of your own home.
The time it takes to see results depends on your skin condition and goals. When treating acne, you could see results in as little as a few days. Other results — such as wrinkle reduction — will take a couple of months of consistent use to appear. After the first three to six months of use, you can start using your devices less frequently. Make sure to follow the directions that come with your device to receive the intended results.
Is LED Light Therapy Safe?
Short answer: yes! LED light therapy is safe for your skin. LED lights emit less heat than other lightbulbs and do not emit UV rays, making them safe for everyday use.
LED light therapy also does not require any recovery time after treatment, and it is safe for all skin types and skin tones. The wound-healing benefits of LED light therapy make it a safe solution for at-home therapy as well.
At LED Technologies, Inc., all our LED light therapy devices are FDA-cleared, so you can feel confident in each device's safety.
In the following sections, we'll cover the differences between blue and red light therapy and what that means for how they work.
LED Light Therapy Wavelengths
Different LED light colors provide different benefits to your skin, but each can give you convenient and clinical-strength solutions depending on your skincare goals. Blue light, red light, and near-infrared (NIR) LED therapy devices are the most popular. Learn more to see which one will work best for you:
FDA-Cleared Blue Light Therapy
Blue light therapy can significantly benefit your skin's appearance.
Experts agree blue light can destroy acne-causing bacteria on the skin's surface. When used with red light therapy — which reduces inflammation — blue light therapy devices work well to heal occasional breakouts.
FDA-Cleared Red Light Therapy
Red light therapy uses low wavelength red light to improve signs of aging and scarring. It penetrates much deeper than blue light and acts on your cells' mitochondria, which convert the light into energy, giving the cells more power for skin repair and cell growth. Red light therapy also:
Impacts fibroblasts that help create collagen and supports collagen production
Increases blood circulation
Reduces cellular inflammation
Minimizes skin discoloration
You can use skincare items such as vitamin C serum or retinol after your light therapy for enhanced results. If using retinol in addition to your light therapy routine, apply it after your light therapy treatment, not before. Retinol makes your skin sensitive to light, which is why dermatologists recommend using a good sunscreen daily when you're using retinol at night.
Near-Infrared Light Therapy
Red light also encompasses near-infrared light. Near-infrared light has longer wavelengths than both blue and red light, meaning it can penetrate even deeper than typical red light. Near-infrared light helps reduce inflammation and pain in muscles and joints. It also helps improve the appearance of the skin. Red and near-infrared light therapy take bettering your skin "from the inside out" to a whole new level.
Why Do LED Light Colors Work Differently?
In short, blue light therapy works at the surface level to attack bacteria, whereas red light therapy penetrates the skin at a cellular level. It all comes down to the wavelengths of the different colors.
Short wavelengths like those of blue light have more energy but only reach the skin's surface. Longer wavelengths penetrate the skin's layers deeper into your body.
Simply put, the longer the wavelength, the deeper the light can permeate into the skin.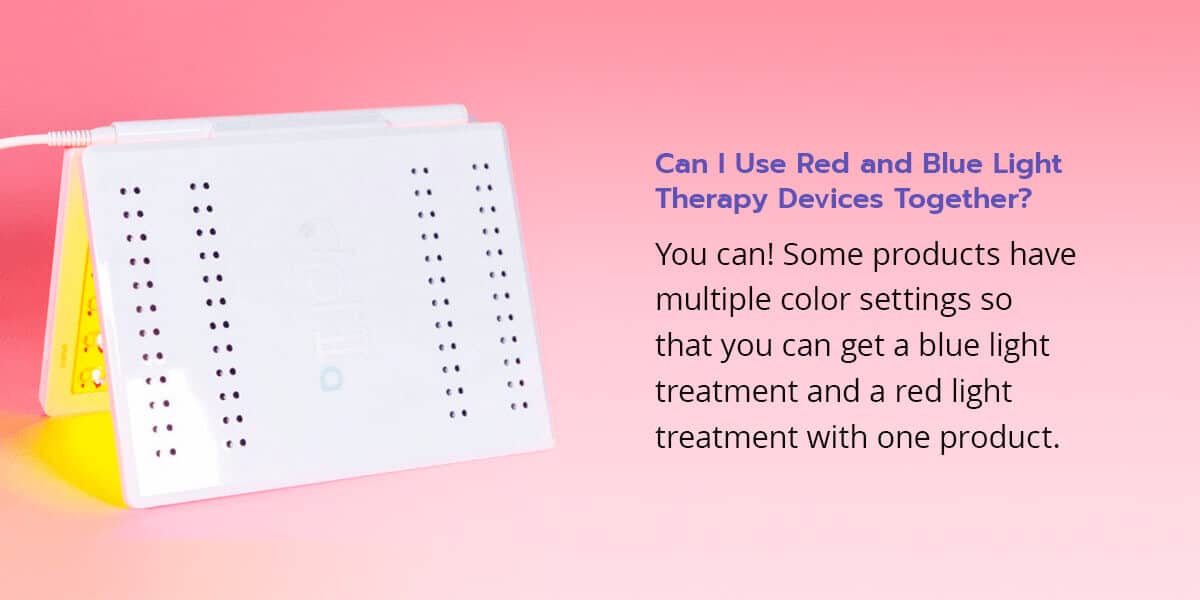 Can I Use Red and Blue Light Therapy Devices Together?
You can! Some products have multiple color settings so that you can get a blue light treatment and a red light treatment with one product. Additionally, red light and near-infrared light devices are often more effective when used together.
Some devices — like the reVive Light Therapy® dpl IIa and the new Lux Collection — have multiple LED light color settings. With devices like these, you can get the surface-level benefits of blue light and the cellular-level benefits of red light simultaneously. It's the best of both worlds!
Can I Use My FSA or HSA to Purchase Light Therapy Devices?
You may be able to use your flexible spending account (FSA) or health savings account (HSA) to purchase light therapy devices. Oral care products and products for pain relief are covered, as are acne products since acne is considered a dermatological condition, not a cosmetic issue.
How to Choose an LED Light Therapy Device
If you've gotten this far and are excited about trying out LED light therapy, we've got you covered. However, there are many options available for you, and it can be overwhelming trying to figure out where to start. Follow these recommendations when choosing an LED light therapy device:
1. Pick the Area You Most Want to Improve
The device you choose to purchase will largely depend on your skincare goals. If you're looking to minimize the appearance of fine lines and wrinkles, a handheld red light therapy device might be a good fit for you. If your focus is on improving surface-level acne, try out spot acne treatment devices. You can even get lip-plumping effects with LED light therapy.
2. Decide How Much Time You Have for Treatment
At-home LED light therapy treatment can take as little as 3 minutes per day. FDA clearance of light therapy devices is based on using the device on the affected area once daily. However, it is safe to use your devices more frequently. We recommend treatment up to three times per day per area for best results.
Both anti-aging and acne treatment therapy involves three-minute treatments up to three times per day. Pain relief treatments take a little bit longer — up to three treatments of 20-minutes each.
Light therapy devices can fit your schedule and lifestyle. Just make sure you're following the instructions specified for the product. If you stay consistent, you're likely to see results quickly — after as few as one session when treating acne or pain or after a couple of months when focusing on anti-aging.
3. Explore the FDA-Cleared Options
Your safety should be your top priority with any skincare products you purchase, and this extends to light therapy devices. Light therapy devices need to have FDA clearance in the United States. Devices without clearance have not been reviewed by the FDA for potential safety concerns. At LED Technologies, Inc., all of our LED light therapy products are FDA-cleared, so you can feel confident in our commitment to your safety.
4. Review Your Budget
At LED Technologies, Inc., we have light therapy products for every budget. If you're interested in beginning your light therapy journey to improve acne but aren't sure where to start, this portable LED light acne treatment could be perfect for you.
If your goal is anti-aging, consider this portable light therapy device that rejuvenates skin and reduces wrinkles. Whatever your skin goals, LED light therapy doesn't have to be a huge investment. It can easily fit your budget and your needs.
5. Check Device Reviews and Studies
Perhaps no one is better suited to tell you about LED light therapy devices than their users! Before purchasing a device, review what other people have said about it and how it helped their skincare needs. Also, review studies — such as red light therapy studies, pain reduction studies, and acne treatment studies — to better understand possible results.
How to Use Your FDA-Cleared Light Therapy Device
Each light therapy device will come with a specific set of directions based on the type of product, light, and goal. It's crucial to use the device only according to the instructions provided. However, these tips are fairly universal regardless of which device you use:
Wash and dry your face or area of treatment before the light therapy treatment to remove any products with light-blocking ingredients
Check yourself for light sensitivity before beginning treatment
Use the treatment times as described for your device
If your device is rechargeable, fully charge your device before using it and fully deplete the battery before recharging again. Rechargeable devices need to be unplugged to use
If your device is corded, unplug it while not in use
Caring for Your Light Therapy Device
Once you've purchased a light therapy device, you'll want to care for it properly. Check out the following tips for caring for your light device:
Gently fold your cord and secure it instead of wrapping it around the plug or device
To get the most out of your device's battery life, aim to use your device within 48 hours of its full charge
Even if you do not use your device within 48 hours of a full charge, we recommend fully depleting the battery before recharging it to its full capacity
Turn off and unplug your device when it is not in use
Clean the outside of the device with a damp cloth, and clean the LED lights using an alcohol wipe or damp cloth
If you share your oral care or lip care device with others, make sure to clean it between uses or contact us to purchase additional mouthpieces for your devices
Maintaining your LED light therapy device will help it last longer and help you get the most out of your light therapy investment.
Check out LED Technologies, Inc. for FDA-Cleared LED Light Therapy Devices
At LED Technologies, Inc., we've spent decades refining LED light therapy technology to give you the best possible results. Our red and blue light devices are science-backed and have FDA clearance. Whether you're looking for pain relief, acne treatment, lip and oral care, or to minimize wrinkles and fine lines, we've got a device for you.
Our reVive Light Therapy® and dpl® brands have been featured in publications such as Vogue, GQ, and Instyle. We are passionate about communicating the benefits of LED light therapy, and we take great care in making sure our products are safe and effective for you and your skin.
Experience the incredible results of FDA-cleared LED light therapy. For more information or if you have any questions, contact us or shop our selection today!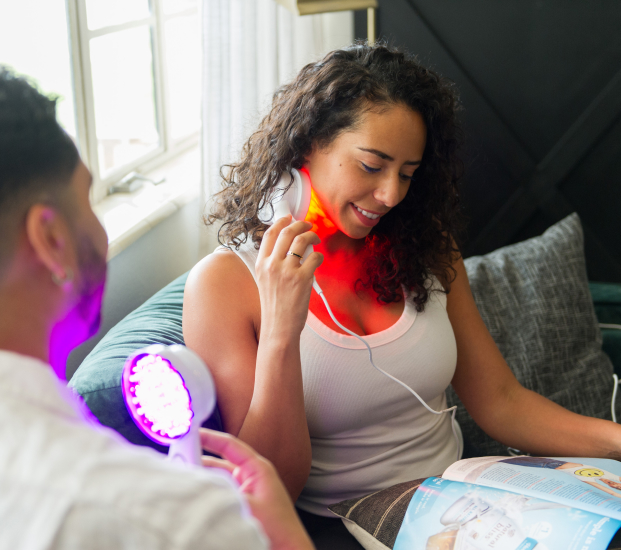 Experience the power of light therapy at home
Specific wavelengths of light have different effects, and can be used for a variety of applications — from destroying acne-causing bacteria to killing harmful germs on your phone. Our light therapy devices allow you to harness the power of LEDs in the comfort of your own home.
See How It Works