What Light Therapy is Best to Help Manage Your Arthritis Pain?
Reading Time:
3
minutes
While light therapy is an excellent tool to treat skin concerns such as signs of aging and acne, the full-body benefits that some LED devices provide are more than skin deep. Many people don't realize that certain types of light therapy can also be a safe, non-addictive way to help manage pain, including inflammation caused by arthritis.
Who Suffers from Arthritis?
In the United States, 23% of all adults—over 54 million people—have arthritis, according to the Centers for Disease Control and Prevention (CDC). Of the individuals diagnosed, 60% are of working age (18 to 64 years). Women are much more likely to suffer from arthritis and are far more vulnerable to rheumatoid arthritis, one of the most debilitating forms of the condition.
Arthritis symptoms include pain, aching, stiffness, and swelling in or around the joints. This pain can make even the simplest everyday tasks a struggle and can sometimes severely limit physical activities. Only a medical professional can make a definitive arthritis diagnosis, but many sufferers find relief with home treatments. In particular, light therapy can help by relaxing muscles and relieving spasms, pain, and stiffness. A study published in the Turkish Journal of Physical Medicine and Rehabilitation, for example, found that infrared light treatments on inflammatory arthritis of the spine (spondylitis) resulted in improved function and quality of life for participants.
What Color of Light Therapy Treats Arthritis Pain?
If you're considering light therapy for pain, you'll see different products available that include red or infrared or both types of light. The biggest difference is red light works on the skin's surface, while infrared light penetrates deeper into the body. To understand how red and infrared light work differently (and together), we need to review the physics of light.
Light appears as different colors according to its wavelength. The human eye can detect wavelengths ranging from about 400 to 700 nanometers (nm), a tiny range when you consider all forms of energy. Red light resides at the end of the spectrum with the longest visible wavelengths. Just beyond that range lies infrared light. Because it's outside the visible wavelength spectrum, you won't see infrared light.
LED pain relief devices use red and infrared light to stimulate blood circulation, relax muscles, accelerate healing, and relieve pain. Infrared light is invisible to the human eye but has demonstrated the highest level of natural healing effects in the body's cellular structure. Combined with red light and dpl® technology, infrared light reaches deep into joints and tissues, increasing circulation, oxygenation, cellular repair, and cellular reproduction.
Results from red and infrared light treatment can include general temporary pain relief of associated effects like muscle and joint aches, arthritis and tendonitis, and muscle spasms. As well as the removal of toxins, unwanted cellular matter. Additional benefits have been shown to increase the rate of injury recovery and wound healing. Even nerve cells were shown to respond positively to infrared light, according to a study in Photochemistry and Photobiology.
How Does Infrared Light Treat Arthritis Symptoms?
Infrared light therapy, or "low-level light" therapy, uses specific wavelengths to stimulate a natural response in human tissue to enhance overall cell performance on a microscopic level, according to a study published out of Adnan Menderes University School of Medicine. The low-level light energy penetrates painlessly through multiple layers of skin to reach muscles and nerves. Body cells absorb the energy and become more active, and blood flow to the area increases to further support cell regrowth and regeneration. This combination of cell activity and circulation works to reduce inflammation caused by arthritis (as well as other injuries).
Keep in mind when using a light therapy device that the human eye cannot detect infrared light. On treatment devices with both red and infrared lights, only the red lights may be visible to you. High-speed digital cameras, such as the one on your smartphone, can usually "see" infrared light, so try taking a picture to confirm your device is working.
Can You Use Red and Infrared LED Devices With Other Arthritis Treatments?*
Because light therapy is a natural and non-invasive process, you can use it in conjunction with most other arthritis treatments, such as NSAIDs, corticosteroids, or painkillers. If you use a topical arthritis cream, apply the cream after your light therapy session to avoid interfering with the treatment. The CDC recommends other ways to reduce arthritis pain through lifestyle changes, including you can stay active, maintain a healthy weight, and protect your joints by avoiding the risk of injury wherever possible. Light therapy can also be incorporated into any workout or recovery routine.
*It's recommended that you consult with your doctor before starting any new arthritis treatment program.
Choosing the Right Type of Light Therapy Devices For Arthritis
Arthritis can affect many different areas of the body, although pain commonly occurs in the back, knees, feet, and hands. dpl® offers multiple devices designed to target these areas.
Browse Our Selection →
A safe and effective way to deal with arthritis is to literally shine a light on it. Portable light therapy devices provide powerful pain relief in the comfort of your own home. If you're looking for a non-addictive and healthy way to manage your arthritis, see for yourself how dpl® can work for you.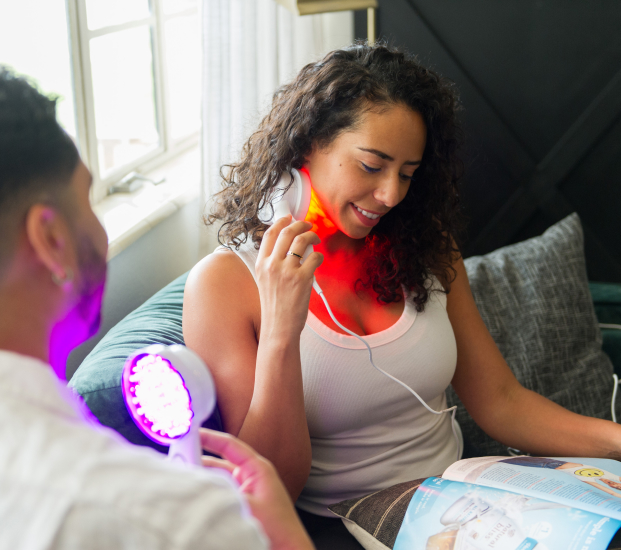 Experience the power of light therapy at home
Specific wavelengths of light have different effects, and can be used for a variety of applications — from destroying acne-causing bacteria to killing harmful germs on your phone. Our light therapy devices allow you to harness the power of LEDs in the comfort of your own home.
See How It Works