How Infrared Light Therapy Provides Neuropathy Pain Relief
Reading Time:
4
minutes
Neuropathy is a condition that affects over 20 million people in the United States. The condition can affect people of all groups, though the risk increases with age. While it is sometimes treated with medications, drug-free home remedies like infrared light therapy can also help ease the symptoms of neuropathy.
Learn how infrared light therapy can help relieve neuropathy-related pain and which home light therapy devices are available.
Causes and Types of Neuropathy
Diabetes is one of the most common causes of neuropathy in the United States, but infections and injuries are known causes, as well. Alcoholism, certain medications, and vitamin deficiencies can also cause neuropathy.
Neuropathy patients experience pain in their daily activities. Even simple things like walking or trying to grab an object can trigger pain in different parts of their bodies. Some patients describe the pain as a stabbing, burning, or tingling sensation.
Other symptoms neuropathy patients have to deal with include:
Sensitivity to touch
Muscle weakness
Poor coordination
Paralysis (depending on the type of neuropathy)
Because it causes such disruption to everyday activities, patients are often eager to find an easy-to-use home device that can address their neuropathy pain without side effects. Light therapy fills that need.

Does Infrared Light Therapy Heal Nerves?
Neuropathy occurs when the protective layer around the nerves dies due to inadequate blood supply. It's believed infrared light therapy can heal nerves by increasing blood circulation and triggering the release of essential molecules like nitric oxide (NO).
NO is an essential molecule for blood vessel health that promotes healing. The chemical widens blood vessels to improve circulation in the local area when using a light therapy device. Improving blood flow allows nutrient-rich and oxygen-rich blood into the nerves and tissues. As the nerves become healthier, they continually release nitric oxide, allowing the infrared light to speed healing and relieve pain.
Patients relying on light therapy as a non-invasive alternative for neuropathy have reported relief after using a light therapy device. Dr. Shawn Richey from the Neuropathy Treatment Centers of Pittsburgh used light therapy with more than 5,000 patients, and about 70% of his patients experienced some pain relief and improved function.
These studies show promise for those searching for a safe and effective way to treat the pain associated with peripheral nerve damage.
How Red Light Therapy Can Treat Neuropathy
People with neuropathic pain commonly turn to medicines like nonsteroidal anti-inflammatory drugs or opioids for relief. However, these treatment methods typically have unpleasant side effects and may not help everyone. Additionally, opioids carry a risk of addiction. Others might try topical creams to address their pain, though they can cause skin irritation and a burning sensation in the affected area.
In contrast, red light therapy is a safe, nonaddictive, and effective method for those wondering how to treat neuropathy without using prescriptions. Infrared light treatments allow rays to penetrate the skin to reach muscles and nerves. The cells absorb the energy from the light, supporting cellular regrowth and regeneration. At the same time, red light therapy can help reduce inflammation and repair injuries, resulting in less overall pain.
As a result, more people are turning to red light therapy for nerve pain. It's noninvasive, has minimal side effects, and can be used multiple times until you reach the desired results. When using infrared light therapy for neuropathy, you can safely and effectively use your device at home, saving you time and money.
What Does Infrared Light Do to Your Feet?
Light therapy neuropathy devices can help people suffering from foot pain. Many people struggling with neuropathy in the feet experience pain that can affect their mobility. Unlike ultraviolet light, which can damage the skin, infrared light enhances cell regeneration and can help restore function in the feet.
The key to reducing foot pain and increasing sensation is to boost circulation. One of the easiest ways to do this is through infrared light therapy. Using these devices triggers helpful chemical reactions, including the release of nitric oxide.
As the nerves heal and sensation increases, patients can expect improved balance and fewer falls. Since infrared light can penetrate deep layers of skin, it can provide effective neuropathy pain relief. It's a safe, natural, and painless form of therapy that can treat all parts of the body and various conditions.
Address Neuropathic Pain at Home with dpl® Infrared Light Therapy Devices
Neuropathy sufferers can use light therapy from the comfort of home. dpl® has a variety of FDA-cleared pain relief devices you can use while binge-watching your favorite series, reading a book, or as part of your self-care routine.
Finding the perfect light therapy device to reduce the pain caused by neuropathy can be a little overwhelming if you're new to the light therapy world. Here are a few of the products we recommend:
Try Our dpl® Devices for Pain Relief from Neuropathy Symptoms
Overall, infrared light therapy for neuropathy is growing in popularity due to its ability to stimulate healing, promote nerve recovery, restore sensation, and reduce pain. If you are a neuropathy patient — or you have a loved one suffering from this condition — don't wait any longer to try an infrared light therapy device. This is a safe, medication-free way to manage pain with the potential to change your lifestyle.
At LED Technologies, Inc., we provide red and infrared light therapy devices to alleviate chronic pain associated with this condition. Use these tools at home to reduce inflammation and find relief for your neuropathy pain once and for all.
Browse our dpl® pain relief products today!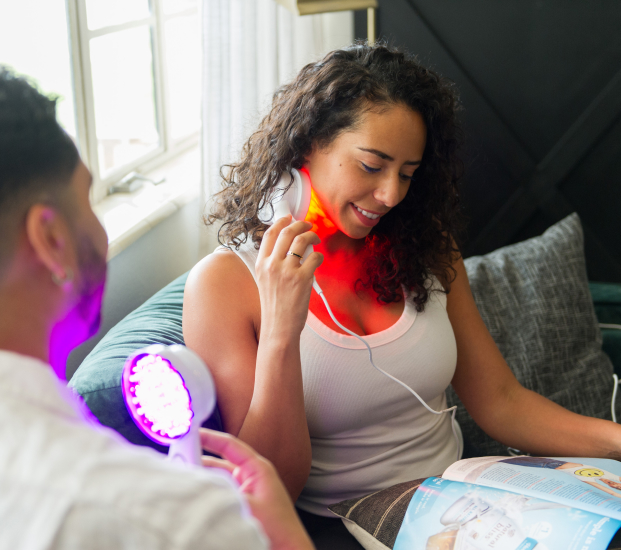 Experience the power of light therapy at home
Specific wavelengths of light have different effects, and can be used for a variety of applications — from destroying acne-causing bacteria to killing harmful germs on your phone. Our light therapy devices allow you to harness the power of LEDs in the comfort of your own home.
See How It Works